The curtain on the 2020 Arizona high school football season finally raised Friday night throughout most of the state.
Here are a few of my takeaways from a much anticipated Week One.
First Impressions
I can't pretend like attending and covering a game Friday, mine being Brophy Prep at Notre Dame, was "normal" because quite simply, it wasn't.
Sure, once the whistle blew and BCP teed it up, the action between the white lines on Bemis Field was mostly as I expected. However, beyond that, it was a completely different experience. The usually packed stands inside NDP's Stadium were, between the seating limitations (two tickets per player) and the fact the school started their fall break today, almost barren – similar to the parking lot 30 minutes before kickoff.
Although Notre Dame played music between plays and during breaks in the action, there was really very little, if any, atmosphere to speak of. Both teams had masked cheerleaders but neither performed at halftime. Further, the players staying on the field at the half was just…odd.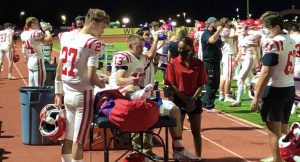 — Jordan Hamm (@JordyHamm) October 3, 2020
I know Centennial was intent on proving last year's Open Division home loss to the Huskies was a blip but Friday night appeared more like a trend – getting boat raced in what many believed to be the top matchup of the opening weekend.
Is it only one game against one of the top teams in Arizona? Absolutely.
Is there time for Centennial to figure things out? No question.
The new 6A Desert Valley schedule features few, if any, layups with games against Williams Field, Pinnacle, Chandler and Chaparral still ahead.
Three and Out
Here are scores which caught my eye from Week One.
1. Sunrise Mountain smokes Cactus 48-7. Uh, who exactly saw this coming?
Travis Ward runs for a 17 yard touchdown – 35-7 Mustangs! Looking good! #smhsfootball pic.twitter.com/HvxW2r4Npm

— Sunrise Mountain (@SunriseMustangs) October 3, 2020
Cactus is a team loaded with talent on both sides of the ball, including a number of key transfers who head coach Joseph Ortiz believes will be impact players this year.
It will be likely be a week of adjustments as they'll take on rival Peoria in Week Two.
2. Corona del Sol shuts out Desert Vista 28-0. I understand Desert Vista lost a number of talented players – most notably Parker Navarro, Tyson Grubbs, Elijah Ervin and Zack McGinnis among others but a season-opening shutout to Corona is certainly puzzling.
3. The thriller of Week One was probably in the far southeast Valley as Casteel reeled off 21 unanswered points in a 36-35 win, spoiling the trip for Boulder Creek who made the long bus ride down from Anthem.
Casteel has come back‼️ Once down 35-15, QB @DChristensen_12 rolls right and finds #UCLA commit @IsaiahNewcombe for his 3rd TD of the game. @CasteelFootball 36 Boulder Creek 35 with 6:11 left in the game @AZHSFB @gridironarizona pic.twitter.com/UiskNMA1aM

— Cody Cameron (@CodyTCameron) October 3, 2020
I'm still high on Boulder Creek, especially considering their far more manageable schedule and the fact they have experience and depth at the right positions.