Entering the 2020 season, David Peralta had hit 85 home runs at the Major League level.
But none compared to his first home run this summer. The Diamondbacks had struggled offensively up until that point in the season, but on that given night in early August, the team erupted for 14 runs against the Houston Astros.
With Arizona already up by five runs, Peralta slapped the first pitch of the seventh inning over the right-centerfield fence, with the ball rattling around an empty pool area.
Take a lap, @DPFreightTrain6. 🚂🚂 pic.twitter.com/FrF2tlZ0w7

— Arizona Diamondbacks (@Dbacks) August 6, 2020
There wasn't a crowd in the building, but Peralta felt a strong connection with a fan-turned-friend as he rounded the bases and pointed to the sky when he crossed home plate.
You see, Peralta had dedicated his first home run of 2020 to Jacob Medina.
But to fully understand the importance of this home run, you need to know the type of person Jacob Medina was and the impact he made on Peralta – and really anyone he came in contact with – in a very short amount of time.
The 19-year-old brother, son, friend and baseball player may not have been the loudest or most boisterous personality, but his quiet actions would speak loudly to his teachers and peers at Perry High School in Gilbert.
"He was one of those kids that the coaches loved to work with, the teachers enjoyed having in class," Perry athletic director Jennifer Burks said. "He was kind of like everybody's best friend. He's just one of those kids that everyone hopes to have at their school."
Jacob's parents, Krystal and Mike Medina, have been overwhelmed with stories of their son looking out for his classmates throughout his time at Perry.
Prior to one of Perry's baseball games, a nervous student struggled through singing the National Anthem. Jacob, who pitched and played outfield for the Pumas, came out of the dugout prior to first pitch to put his arm around the student, thank him and say he hoped he would come back to sing again.
No matter the age, no matter the social status, Jacob would go out of his way to connect with anyone he came in contact with.
"We heard from people and students that moved from another state that went to his high school and Jacob was the first person that they talked to," Mike Medina said. "They made a friend for life, just by … Jacob walking up to them saying, 'Hi, welcome to Perry. Let's take a selfie.' We didn't know he did things like that."
People gravitated to Jacob, and that didn't change on the diamond. His teammates loved him. He did well in the classroom to ensure his grades were never even close to being an issue. He worked out constantly to perfect his craft and managed his diet to get the most out of his body. His parents, on more than one occasion, had to ask him to not shadow swing or pitch between bites when the family sat down for dinner. Jacob's mind was always thinking toward the next step in his baseball journey.
"He was 100% determined to play in the MLB," Mike Medina said. "That's what his goal was and literally there's no doubt in my mind he would have reached it."
While Jacob's sights were on the big leagues, his parents reminded him to focus on being the best he could be that day. In March 2019, the family had settled on Jacob's college decision. However, he was diagnosed with B Cell Acute Lymphoblastic Leukemia two weeks later and they never announced the decision.
Quickly, the Perry community rallied around the Medinas.
The hashtag #JacobStrong was all over social media. An orange ribbon was painted on the baseball field. Various fundraisers were organized to help the family. The cancer was in remission later that spring but then returned in January 2020.
Even while Jacob was going through chemotherapy treatments, he would still come to Perry baseball games, and his presence was always felt.
"Whenever a kid was on-deck getting ready to bat, they would go talk to him," Perry principal Dan Serrano said. "Every single one. They knew when he was there."
No matter what Jacob was going through, it seemed as though he always put others first.
"I've heard stories where people were at their lowest and they get a text or call from Jacob out of the blue from his hospital room," Krystal Medina said. "He's going through chemo. He's feeling the worst he's ever felt, but something made him pick up the phone and text or call these people to ask them how they were doing and lifted them out of their dark hole just when they needed it. He had some kind of intuition or something that people needed him all the time."
"Those two had plans."
David Peralta first heard about the Medina family from Diamondbacks trainer Ken Crenshaw. Crenshaw's son played with Jacob at Perry, and Ken was sending over a care package and video to the family. Peralta quickly recorded a video with words of encouragement for Jacob.
After a few weeks, Peralta followed up with Crenshaw and heard Jacob was still battling at Phoenix Children's Hospital. Peralta decided to see Jacob this past February for what was planned to be a half-hour visit.
Peralta ended up talking with the family for close to four hours.
Jacob and David connected instantly and became fast friends. Whatever it was, those two were now linked and the relationship would go much further than that day.
Yesterday, I got a chance to meet a big fan and more importantly a new friend.
I couldn't be more happy that I got a chance to spend time with you so that I could see your strength and spirit in person.
You are an inspiration, @Jacob_Medina32!#JacobStrong pic.twitter.com/5wxluWU3mg

— David Peralta (@DPFreightTrain6) February 22, 2020
"We just started talking and right away, it felt like family when you feel this connection," Peralta said.
"I really admired him because I saw him in bed, the way he was. It's not easy for a kid going through whatever he was going through with his chemo. … That really got me, the way he was taking everything (in stride). I realized he's a special kid."
It was evident to Peralta this wasn't going to be a one-time interaction.
"As soon as I got home, I told my wife that was a really good connection between me and him, and I feel like I need to help. I didn't know how I was going to help and I was figuring out how I was going to do it, but his family was really special with me."
According to Mike Medina, Jacob was more interested in learning about David Peralta the person, not Arizona Diamondback outfielder David Peralta. They found common ground between Peralta's winding path to the big leagues and Jacob's "won't take no for an answer" approach to the field.
"I think that's how both of them were able to connect with one another so strong," Mike Medina said. "They were like big brother, little brother. They would play video games (online) and just talked so much trash to each other."
Peralta kept in touch not only with Jacob, but with the entire family as well. If David reached out to Jacob and didn't hear back, he'd text Mike and Krystal to make sure everything was OK and ask for Jacob to touch base with him when he felt up to it.
"Tell my bro to text me or call me," Peralta would ask Jacob's parents over text.
Peralta bombarded Jacob with encouragement, support, laughter and, yes, trash talk. He was also formulating a game plan to get his friend back on the diamond when he was healthy.
"'As soon as you're better I'm going to take you and we're going to get you stronger,'" Krystal Medina recalls David saying to her son. "'I'm going to hit fly balls to you, get you in the batting cage and we're going to get you stronger.'"
But the two were never able to share a field together. Jacob Medina passed away on May 13, surrounded by his family and Peralta. Hundreds of members of the Perry community held candle-lit vigils outside the hospice care center he was in.
"I saw him in his last minutes and he was still fighting and still fighting," Peralta said. "It's tough for everyone, it was tough for him, it was tough for his family. I can't even describe the feelings…it's hard to believe that this sort of thing happens to good people and sometimes it's not fair."
Peralta made it very clear to the Medinas that these two families would continue to stay together.
"He's always repeatedly telling us, 'This is not the end for us. We're family now,'" Krystal said. "It's not just words, he means it and I feel it."
Jacob's impact will be felt moving forward. The Medinas still have his baseball bag hanging in their garage, just like he had it when he was playing with the Pumas. Krystal has collected photos and videos of her son – she says it's her way of coping – and his room is untouched.
"Everybody says you have an angel now, but I think we've always had an angel since the day he was born," Krystal said.
"We just got to spend time with our angel in real life."
Peralta has his own ways to remember Jacob. He consistently wears a "Jacob Strong" shirt underneath his uniform. He has an orange bracelet to commemorate his friend, and wrote "JM 23," Jacob's initials and favorite number, on his hat. Though the two friends never shared the field together, David continues to find ways to bring Jacob to the field.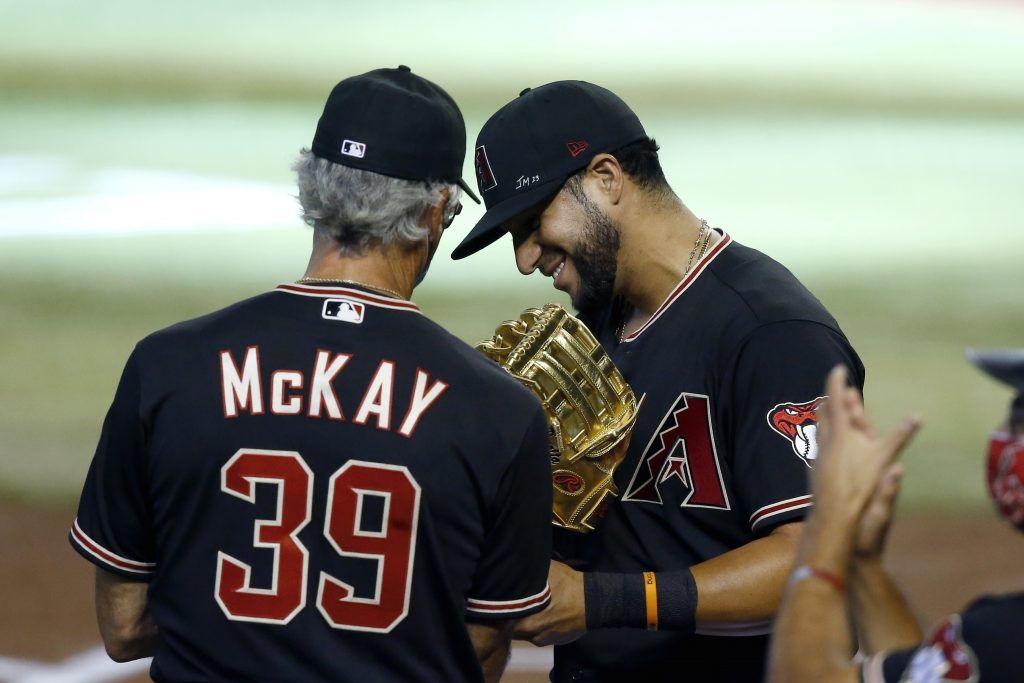 When Peralta accepted his 2019 Gold Glove Award, Jacob was with him.
Jacob was with David on his first home run of the season, and the Medinas have the baseball.
"It felt like David wanted to make sure that we knew that Jacob was still part of his life and he wanted to make it known to everybody," Krystal said. "He wanted Jacob there with him, playing in the Big Show.
"I feel that we're all keeping Jacob alive in one way or another and I think David's way of keeping him alive is through baseball."
When Jacob passed away, David reiterated that the Peraltas and Medinas were family. Krystal and Mike say they feel like anxious parents when they watch the Diamondbacks now.
When David comes to bat, the parents admit they get nervous and will say the same prayers they said when Jacob came to the plate. When they see Peralta bouncing around the dugout to encourage his team before taking the field, they see the same enthusiasm Jacob had when stepping onto the diamond.
"It would have been amazing to see what those two would have done had Jacob made it out of this healthy," Mike said with a smile.
"Those two had plans."
As those who knew Jacob mourn his passing, one thing is for certain: He has made an impact on those around him and will continue to do so.
#JacobStrong continues to be a point of strength and a reminder for the Perry community to support others the way Jacob did. Perry officials said an orange ribbon will be on the field whenever the baseball team is able to return to the diamond, and a permanent memorial on campus is in the works.
"He's part of Perry and I feel like that will remain," Jennifer Burks said. "Someone's legacy is very important, and I think his is one of (positivity), continuing to stay strong and fight through things, and I think that's why the community has taken such a passionate role in supporting him and supporting his family."
Emery Miller, Jacob's high school teammate, organized the JM23 Classic, a baseball tournament being held at Tempe Diablo Stadium in mid-September to honor Jacob and help offset medical expenses for the Medina family.
And Peralta will take the field knowing he's playing for his good friend.
"He's in my heart and in the small time that I got to know him, I really love that kid. That kid gave everything in his life to fight, and it's hard. It's not easy, and I feel for his family,
"I'm pretty sure he's watching down and taking care of us from above."