Arizona State Trooper, Tyler Edenhofer, was shot and killed on Interstate 10 on July 25, 2018, while responding to a disturbance call.
The 24-year-old was completing his final night of field training with the Arizona Department of Public Safety after serving time in the Navy.
On November 5, it was announced in partnership with the LEO Project, a special paint scheme honoring the fallen trooper on a NASCAR Camping World Truck Series race vehicle at ISM Raceway in Avondale for the Lucas Oil 150.
— Dept. Public Safety (@Arizona_DPS) November 5, 2018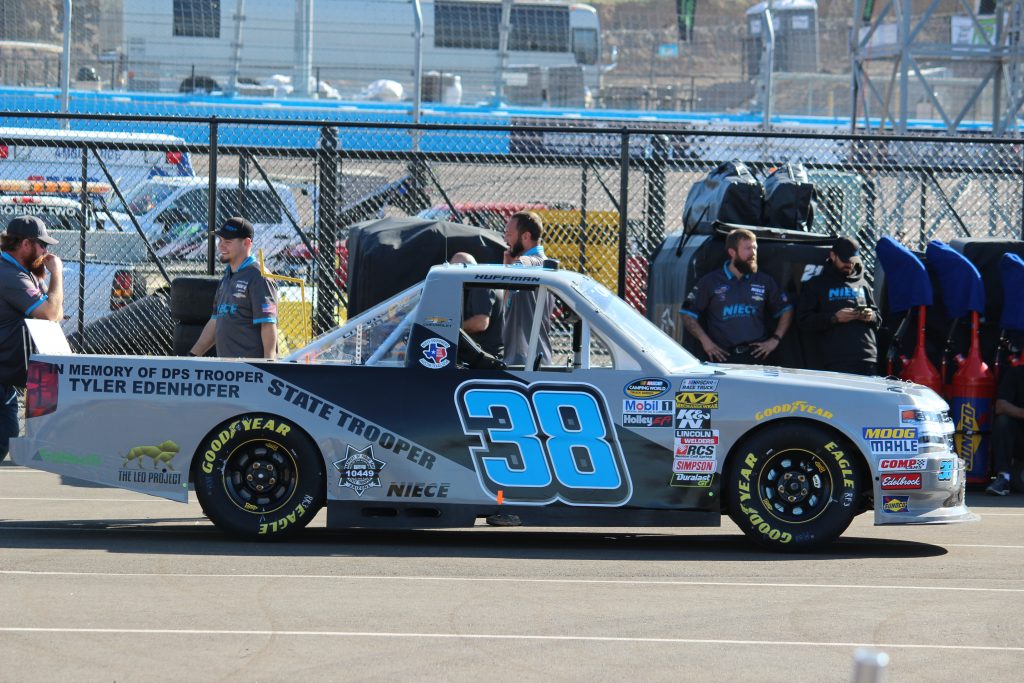 The plan to conceive this tribute had to come together as fast as the truck was on the track. The time frame to get the deal done, paint scheme designed and completed, and the truck out on the track was only a couple weeks.
LEO Project made contact with the owner of Niece Motorsports, Al Niece, a Marine Corps Veteran, who loved the idea of honoring Trooper Edenhofer in his home state. The design, similar to a State Trooper vehicle, was placed on the No. 38 truck, becoming one of the best looking trucks on the track.
ISM Raceway made this a celebration of Edenhofer's service inviting mother, Debbie Edenhofer, who was given a standing ovation in the drivers meeting and was on stage for driver intros. State Trooper vehicles made a lap around the track prerace, honoring Edenhofer in front of a standing crowd applauding and saluting.
What a welcome for Debbie Edenhofer! All drivers stood in applause; We are so gracious to @ISMRaceway for their hospitality and to the drivers for their gracious applause. pic.twitter.com/rsAgyqtLT1

— Dept. Public Safety (@Arizona_DPS) November 9, 2018
"It's a really cool way to honor his life," said the driver of the Niece Motorsports No. 38, Landon Huffman. "I think any time we can raise awareness to the blue lives matter campaign and protect the people who are protecting us on a daily basis is big."
"We had to go into high speed, high gear, to make this happen," said LEO Project President, Mark Garrett. "Couldn't be prouder of everybody involved and just grateful that we made it here today."
The DPS, LEO Project sponsored No. 38 crossed the line in 25th with a night many will never forget.