Phoenix Rising FC has more to offer Major League Soccer than just the 5th largest city in the country. The makeup of the ownership group has several parts that would fit nicely into the growth of MLS. None bigger than Alex Zheng. In just his second face to face meeting with MLS commissioner Don Garber last month, Zheng was a big part of the Phoenix presentation. "Alex fits very well, it's so much more than capital with him", said Brett Johnson, Rising FC Co-Chairman.
Like all professional sports leagues, Major League Soccer is looking to make their sport global. Zheng is part of the ownership group for Ligue 1's OGC Nice
Thank you to my @PHXRisingFC co-owner Alex Zheng and @ogcnice CEO Claude Li for touring me through their new training facility and hosting us at their season home-opener this evening. I am so impressed and grateful for their efforts to help our planning for @MLS in Phoenix! pic.twitter.com/c7B3fxV0Ez

— Tim Riester (@TimRiester) August 11, 2018
Since adding Zheng to the Rising FC ownership table, the franchise has been on a fast track when it comes to adding business in China, a nation that is booming in the growth of soccer. According to figures released by FIFA, 14 of the top 20 largest audiences globally during the World Cup group stage competition were in China, A total Chinese audience of 623 million watched matches during the Brazil 2014 World Cup, while 815 million had already viewed this years tournament in Russia before the start of the knockout phase.
I first met Zheng in person back in February. Through our conversation that day, he had very specific questions about building soccer academies in Arizona with youth players from China. This is a priority for Zheng.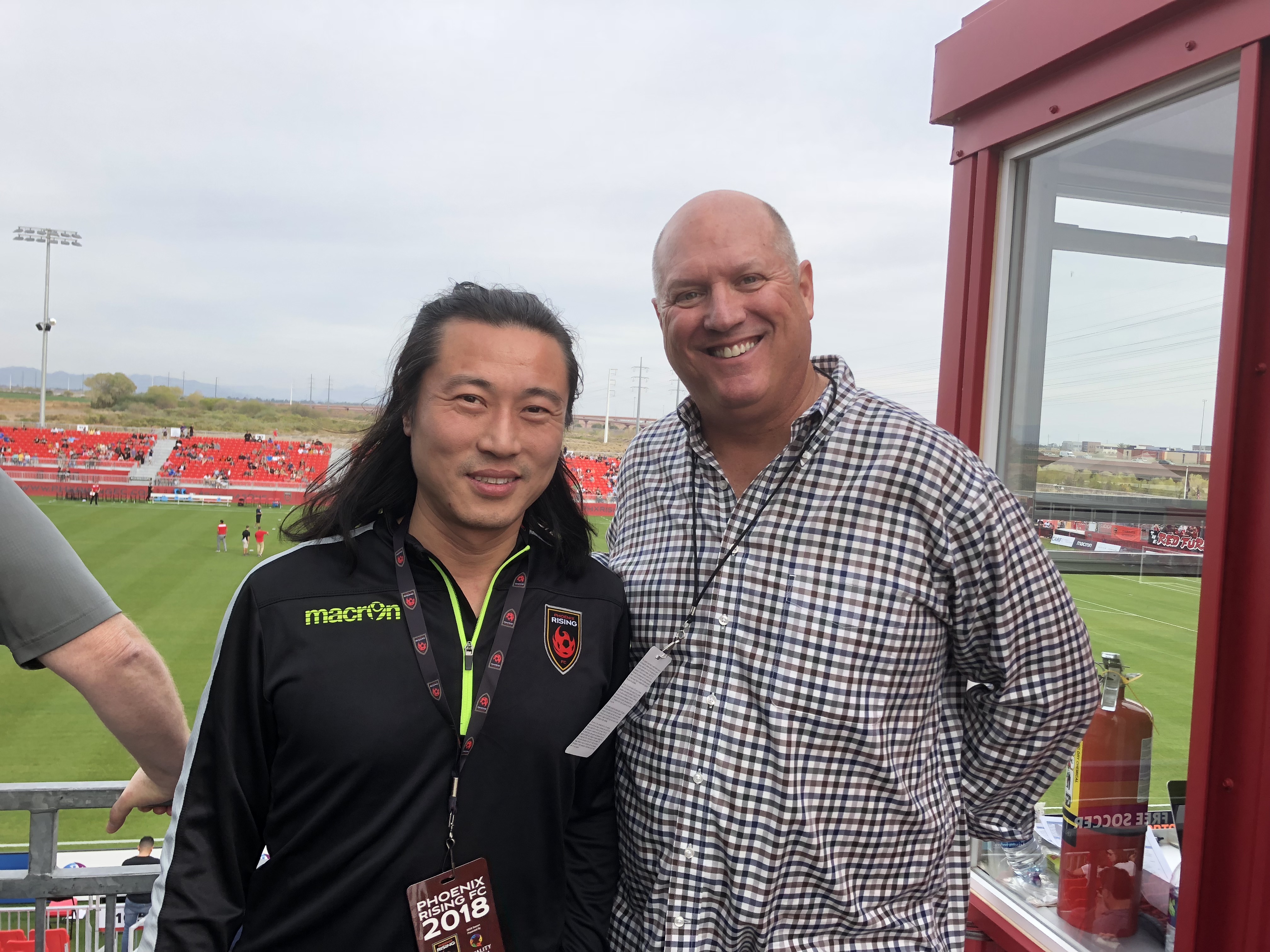 The Phoenix Rising name is already embedded in the Chinese soccer market. Zhengs business manager You You shared the following story with me .
We decided to name our club凤凰鸣扬 (a phoenix rising on Mountain Qi);It is originated from an Chinese ancient idiom. In the last few years of the Shang Dynasty, the emperor was very cruel and people lived in a hard time. A man named Chang Ji thought that he should lead the people to fight for their own freedom and interest. But Chang Ji is not very sure about his idea. He didn't know whether it is going to success or not. He is an underdog I would say. But one day, when he passed a mountain called Qi Mountain, there was a Phoenix tweeting (which is regarded as a lucky symbol in Chinese Culture). Therefore, Chang Ji made up his mind and he used several years to lead the people to fight for themselves. He finally defeated the Shang Dynasty and set up Zhou Dynasty. Zhou Dynasty was one of the most successful and longest dynasty in China. We use the idiom"凤凰鸣扬" to encourage someone choose integrity over injustice and that the right thing will finally become success and fortunate will stay with the justice side.
The social media reach of Rising FC in China is truly impressive. You You shares the details.
-Club's Weibo Account:
Weibo is the largest online social platform in China. In 2017, the MAU of Weibo is 392 million. I created Phoenix Rising FC's official Weibo Account several months ago. I gather information from the Instagram and Facebook account of the club, and add Chinese factors into the content. At this stage, we are the most attractive USL club on Weibo and our followers even excess some of the MLS club accounts' followers
Zheng is taking the approach of bringing the Chinese youth soccer player to Arizona. You You with the details.
-Camps
Alex founded a football academy last year. We were discussing the possibility of introducing Chinese kids to visit Phoenix in Winter and the first Winter Camp has already started to recruit kids. I believe these activities not only generate economic return to the club, but also they are perfect promotion activities in China.