By Jake Trybulski
Oftentimes, specialists go unnoticed.
Highland's Austin McNamara is making sure that is not the case heading into his senior season.
McNamara, along with his lead-foot, had quite the success over the past few months launching the 6-foot-4 punter onto the national recruiting scene.
McNamara is currently rated as the number one punter in the class of 2019, according to 247Sports player composite rankings. He was named an All-USA Preseason Defensive team selection by USA Today and a MaxPreps Preseason 2nd Team All-American in late July.
The ranking comes in large part due to impressive showings at kicking camps from coast to coast this summer. Chris Sailer Kicking has McNamara as the second rated punter for the class of 2019, Kohl's Professional Camps checks him in as the fourth rated punter.
"I've been really thankful for Chris Sailer and Jamie Kohl, they have both done a great job of trying to get my name out there recruiting wise," McNamara said. "I never imagined being in this position, but I'm super grateful for the coaches that have reached out to me."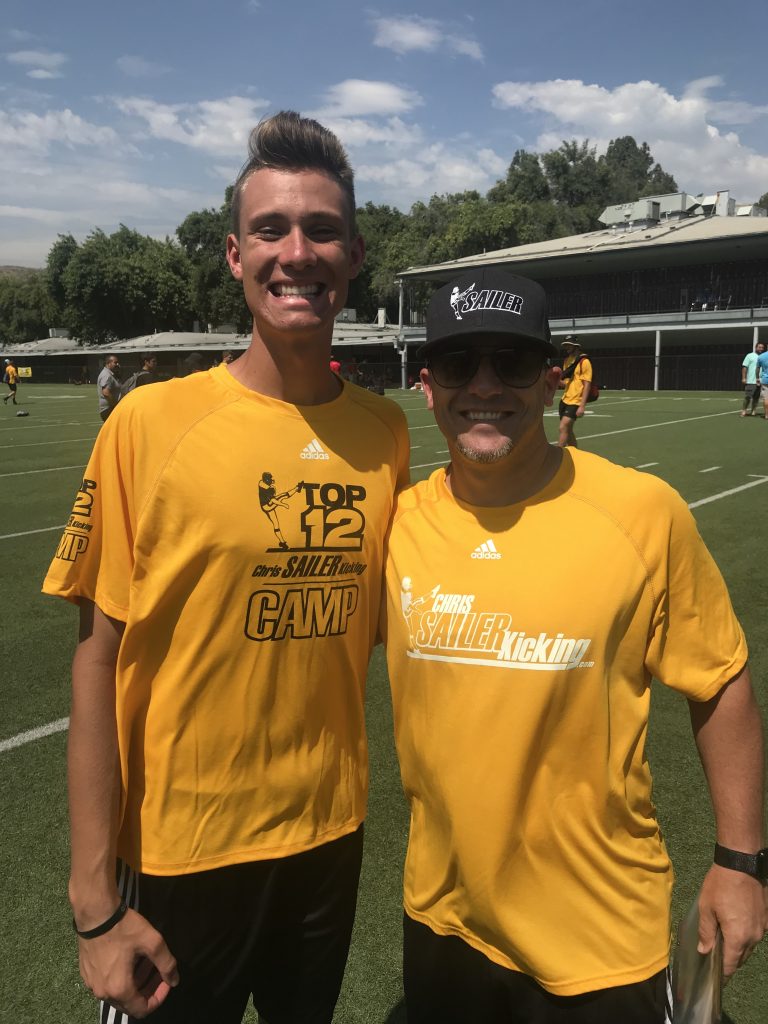 McNamara currently holds offers from Arizona, Arizona State, Nebraska, Missouri, and Utah State.
In 49 punts during his junior season, McNamara averaged 40 yards per punt with a long of 74, he had 17 punts inside the 20, and just had 15 punts returned for an average of 6.9 yards. He had 37 touchbacks on kickoff and went 8/14 in field goals with a long of 42.
74 yd 5.0 hang punt last night!! Couldn't have done it without my line and my snapper. @morgan_parent16 #changetheculture #W #21-0 👀🔥👊🏽 pic.twitter.com/f6jiimKg1Y

— Austin McNamara (@aust_31) August 26, 2017
Locally, he works with 9-year NFL veteran and former all-pro kicker Mike Vanderjagt.
"I'm really expecting him to do great things on Friday nights. He's a special teams coach's dream for punters, he's got all the tools in the world," Vanderjagt said. "He can be great and his mentality is as good as anything. He's not going to get too ahead of himself and not work at it."
Off the field, hungry and humble are words to describe the 17-year-old.
In mid-July, McNamara wanted the shot to test his ability against the top kickers and punters in the country.
A Chris Sailer kicking camp in South Carolina offered specialists a chance to earn a spot in the 2019 U.S All-American Bowl in Texas or 2019 Polynesian Bowl in Hawaii.
After already competing in various kicking camps this summer, McNamara's parents told Austin he would have to raise his own money for the showcase as family finances were already used for his college camps and visits in June.
With the help of friends and family, McNamara rented out a gas station and took things into his own hands by offering a car wash for the community.
"I wanted to help and pitch in," McNamara said. "So, I sold these car wash tickets and people could donate and as much as they wanted."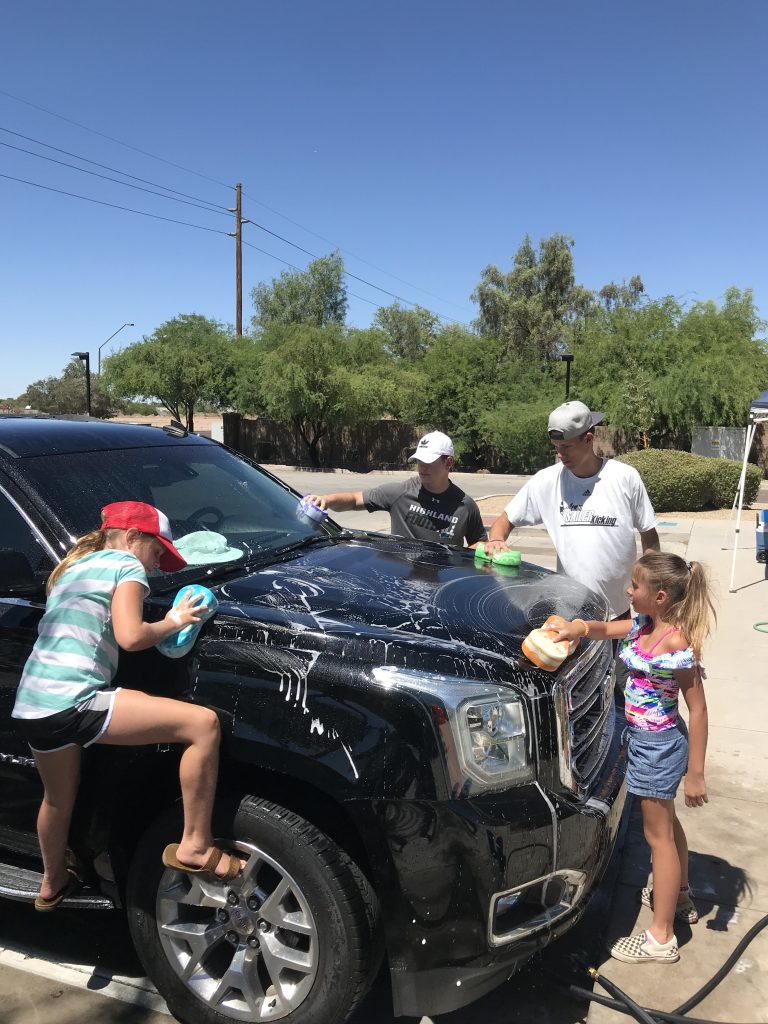 McNamara was able to raise enough money to pay for plane tickets, a hotel room, a rental car, and the camp fee for both his father and himself to make the journey.
McNamara made the experience across the country worth it and earned himself a selection to the 2019 Polynesian Bowl where he will get a chance to showcase his leg in one of the nation's top high school football all-star games in January.
"I have a lot of support here from my friends and family, their donations for travel to South Carolina was huge," McNamara said. "It made the trip and making the Polynesian Bowl that much more meaningful."
Highland head coach Brock Farrel was not surprised to hear about McNamara's big summer.
"He's been trained well but you can just tell, you can hear it and you can see it," Farrel said. "It looks like a rocket is on the football and it just keeps going."
But Farrel mostly praised his demeanor as a teammate.
"He really is the glue that holds us together, he's at every workout and does all the stuff we do and earned the respect of the whole team," Farrel said. "He helps with all the specialists that are younger; the rest of the team sees it and follows suit."
Hawks beat Desert Vista in 2OT. Austin McNamara and FG unit hit 32 yd game winner. GREAT Night at HHS Marquis Cooper #88 👍🏼#FridayNightFever pic.twitter.com/jf1JszLY2w

— Highland Hawks FB (@HighlandHawksFB) October 14, 2017
Austin McNamara doesn't take the early kicking success for granted. He knows he must take things one day at a time if he wants to make his NFL dream a reality. A scar on the left side of his body is constant reminder on how fast life can change.
During a 2017 spring break visit to Tacoma, Washington to see grandparents, McNamara started feeling discomfort in his chest. His father took him to urgent care immediately.
What McNamara originally thought was a cramp turned out to be a spontaneous pneumothorax. In layman's terms, a collapsed lung.
It was supposed to be a three-four day stay but turned into 23 days and two surgeries due to various complications.
"I spent almost a month there, I could have died from it, but I am very thankful for all the people at Mary Bridge Children's Hospital in Tacoma," McNamara said.
He used football as a motivator to get back on the field, and as a hope to give back.
"I was talking to my dad while I was there and one of my goals if I'm ever fortunate enough to play in the NFL, I was really hoping to donate back to that children's hospital," McNamara said.
His father, Brian McNamara, said that he and his son have even talked about visiting children hospitals with other teammates to speak with kids near whatever college McNamara chooses.
"He's got a good heart, he's always willing to give back,he's kind, and considerate," Brian said. "We know if he gives back, his life will be blessed."
A lot of big plans in the future for McNamara, for now, he will kick off Highland's football season on Friday, August 17th at Alhambra high school.