How is it that as the calendar turns to July Rising FC has the second best record in the USL? It's a combination of factors(5 clean sheets certainly doesn't hurt) but the job that interim head coach Rick Schantz has done since taking over for Patrice Carteron on June 12th cannot be overlooked.
Friday night, defender Kody Wakasa was shown a red-card in the 35th minute against a very good Orange County side. Being down a man didn't faze Schantz, who pushed all the right buttons with his roster the rest of the night to help gain the three points(it certainly didn't hurt that Woz was a brick wall in net).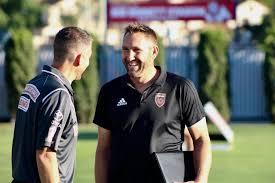 In four matches, he's 3-0-1. You might think that with that kind of record that it would only be natural to take off the "interim" tag. Too soon in my book. This is nothing against Schantz, he's doing everything right. Look at how quick the team has started during his stretch. Friday night was another example of Rising FC coming out aggressive and attacking, pressing from the opening boot. Boom 1-0 in just the 13th minute. It makes a sellout crowd lean a little more forward(or jump out of) their seats when a team plays that style of play.
I don't believe that the interim tag is going to come off Schantz this season. He needs to show how he handles the adversity that is sure to come in the next three months. Rising FC is in position to host postseason games here in 2018. How does Schantz handle the inevitable injuries, chemistry, and unforeseen issues in the coming months? When the team has a poor showing in a match, how does he bring them back? You don't want to promote someone too quickly, but I think it's clear to any of us who have seen Rising FC play since Schantz took over, that he's a star in the making.
7.000 fans came out on Friday night to watch outdoor soccer in the last week of June in Phoenix(Hey Mr. Garber, you seeing this?) The Valley is getting hooked on the team, and I think they should do the same with the interim head coach…