ASU director of player personnel Al Luginbill has been forming a team to evaluate potential recruiting targets, as well as Arizona State's own players. A part of the team is former Sun Devil walk-on turned scholarship receiver Frederick Gammage.
On Friday, Luginbill and his team met with media in their recruiting war room. Here are some of the takeaways from his discussion:
ASU is targeting a particular area:
"I think if you look three to four to five years down the line, you will see a football program made up in the 80% range between California and Arizona," Luginbill said.
Luginbill went on to add they will recruit in the Pac-12 region as well in addition to Montana, Wyoming, Idaho, New Mexico, Nevada (predominantly Las Vegas and Reno), Texas and Louisiana.
"We added (Texas and Louisiana) because we found out that really there is good football players there that end up being really good that end up being under-recruited."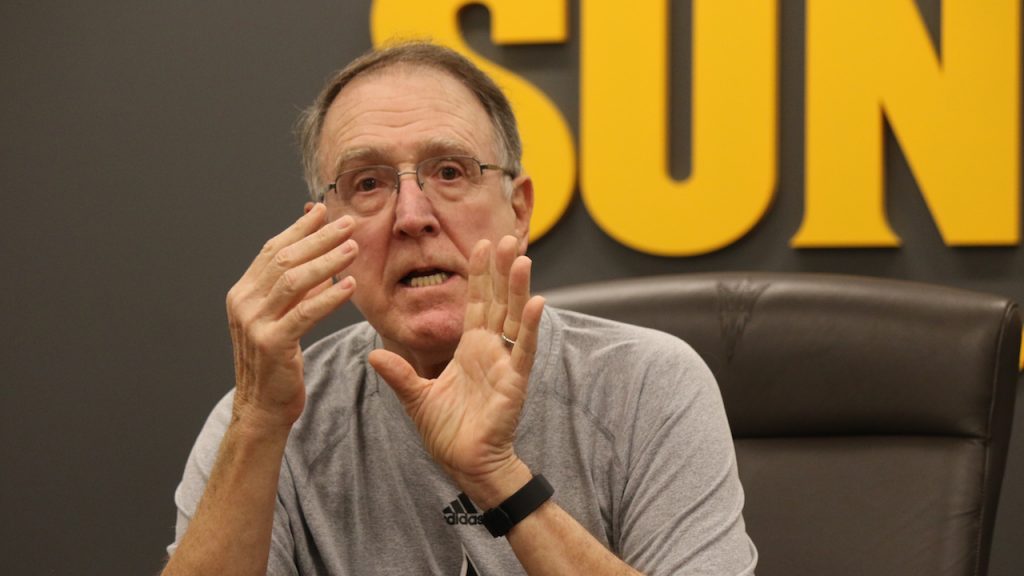 California will be such a focus for the Sun Devils, that Luginbill said eight of the ten coaches tasked with recruiting will have specific areas within the state. Donnie Yantis will keep his entire focus on Arizona and offensive line coach Dave Christensen will have duties throughout the country.
The reason for this?
"Offensive lineman for this program at this stage right now is what we have to focus on," Luginbill said. "Not saying the other positions are not important, they are, but if we don't get our offensive linemen up to speed within the next two recruiting classes, the quality of our football will not be what it needs to be."
They are behind on the class of 2019 – and they know it
ASU currently does not have a commit to the 2019 class, the first full recruiting cycle under the new leadership model.
The staff is aware where they stand.
"On these (class of) 2019 kids, we're behind," Luginbill said. :We know it. These kids that are getting recruited right now have been recruited for a year by everybody else."
"The (2019) class coming up, which is really crucial for us, we're catching up. We're not catching up on the (2020 recruits) and (2021 recruits). We're going to be ahead, and the (2022 recruits)."
They have an example to reference
Luginbill said there is a team that was in a similar situation to the Sun Devils a few years ago that has been able to climb up the college football ranks.
"If four years down the line, you said to me somebody in this conference that we would look to someone that's done it in the West, I would point to the University of Washington. Everybody forgets where they were four to five years ago," Luginbill said.
"That's forgotten because they went to one playoff, got their rear ends kicked, but they went to one playoff. So all that was forgotten and they've done a heck of a job continuing it. We look at them and they're in a big metropolitan area, not in a highly populated state, very similar. The difference is we're much closer by a ton to a heck of a lot more good football players. We'll see what happens down the line."
The Sun Devils currently have multiple targets on-campus in what Luginbill said was their first big recruiting weekend.