Paging #13 Steve Nash.
WHEN the Suns draft Deandre Ayton on June 21st, what jersey number will they hold up for the biggest man to drop in on Phoenix? #13 is retired(Not by Luc Longley). Ayton wore lucky 13 at Arizona.
When Ayton played at HIllcrest Prep here in the Valley he sported #11. 11 hasn't had much luck in Suns lore. Brandon Knight, Markieff Morris, Dee Brown, Pat Burke and the mighty Zarko Cabarkapa were the last ones to wear 11. Wesley Person was the best 11 in Suns history though I'm sure that i'd get an argument by some that Mike Sanders or Johnny High would top "Sweet P".
Big men wearing 0 or 00 is always a good look. Hoooowwwweeeevvveeerrr not in the Suns history. Ayton should avoid 0 at all costs. 0 hasn't worked out for Marquese Chriss and Michael Beasley was a total 0 while in a Suns uniform. If Ayton wants 00, i'm good with it. Tony Delk is the only player in Suns history to wear 00. Delk was about the size of Aytons right bicep.
The numbers 5, 6, and 9 are all retired by the Suns. Perhaps Van Arsdale, Sweet D, or Thunder Dan would be wiling to work a deal out with Ayton.
Since Ayton would be a perfect "10" in my book, why not put his name on the back of a Suns #10 jersey.. Leandro Barbosa(from 2003-10) was the last player that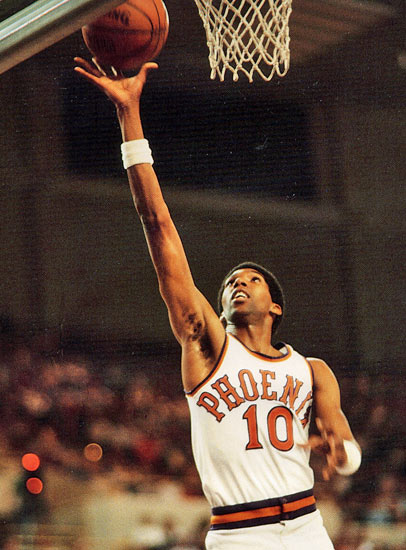 looked good in that number. I always liked "Rocket" Rod Foster and Don Buse in the Suns 10 too.
33 is a great number for a big man, but Alvin Adams played so well during his time with the Suns, that 33 is off the market, retired away. Grant Hill did get permission from Alvin to wear the jersey during his stretch.. I am guessing that Alvin would be more than pleased to see Ayton come through the door. Perhaps a deal could be brokered on that number.
WHEN the Suns turn in the card next month and the name Deandre Ayton is announced, the Team Shop should already have hundreds of Ayton jerseys ready to go. Please tell me what, if any advantage the Suns are going to have by pretending that Ayton isn't the guy. Most of the State heads out for summer vacation so just be honest(I know, i know, it's pro sports) and tell the truth now while you still have a captive audience.
Hey Robert, have some fun with this. We've all been suffering long enough…