17-and-a-half point home underdogs. Vegas and most everyone who follows college football isn't expecting much out of Arizona State against Washington on Saturday night.
With the Diamondbacks postseason run and the Cardinals getting Adrian Peterson, the future of Graham hasn't been discussed much over the last couple of weeks. Saturday night Graham has the opportunity to get that elusive missing signature win over a top 5 ranked opponent. He could take a big step in ending the conversation that his future isn't going to include Tempe.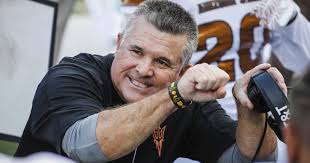 Conventional wisdom says the Sun Devils have no shot at beating the Huskies. Chris Peterson has UW football back to the days of Don James. Show up, roll over the opposition, and move on.
After getting run all over at Stanford by Bryce Love, the Sun Devils had a week off. We will see if the time in the classroom really made a difference. Washington has a couple of big people movers on the defensive front that are flat studs and an offense and special teams, the explosive Dante Pettis.
Ray Anderson and Michael Crow need to see how well Grahams team performers against one of the best in the country.
Show growth and play a clean game against the Huskies and I believe some fans will start to back off. Get blown out(as Vegas expects) and the wolves will be out in full force. I've not said that Graham needs to go. I do believe the criticism on the program is more than fair. Can't be mired in mediocrity like we've seen for the last couple of seasons. I have no room for those who want to point out how tough the next three weeks are for ASU(UW, Utah, USC). I would for once like to hear, "man, we have to play Arizona State and they are a national power", That hasn't happened here. Graham can shut up lots of people(including me) with a victory on Saturday night.