Seen and heard…
The silly season of high school basketball evaluation period ends today. It's one thing for colleges to take a look at players, it's another for these kids to go three straight weeks without a break.
Under the NCAA rules, players can only have two games per day which is fine,
but when a player goes 21 straight days without a break, they aren't going to be very good towards the end. Play two weeks in April and July in front of college coaches.
 That's enough. No need to run these kids into the ground with another week of games to see if they can dribble with their left hand…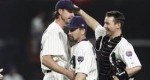 Damian Miller wasn't a household name during his time with the Diamondbacks, but he was the catcher for Randy Johnson. When the Big Unit goes into the Baseball Hall of Fame on Sunday, I hope that there is more than just a line or two in his speech about Miller.
Both Bob Brenly and Steve Finley went out of their ways on the show this week to talk about the working relationship between the two…
Maybe the Diamondbacks knew something when they traded Justin Upton. The former first round draft pick of the team is going to be shipped out of San Diego before next weeks trade deadline, which will be his fourth big league stop before even turning thirty…
The iconic Majerle's brand is expanding once again. Dan Majerle's restaurant chain is taking over the building that housed "Wolfleys" at Desert Ridge…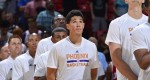 Other than LaMarcus Aldridge choosing to go to San Antonio, the Suns have had a good summer.Drafting Devin Booker, signing Tyson Chandler, TJ Warren making the Vegas Summer League first team, and playing in the Summer League title game against the Spurs. There's more to like about the team than when the season ended for sure…