Randy Johnson was inducted into the Baseball Hall of Fame in Cooperstown, New York Sunday. His speech was delivered much like he threw a fastball, with power and precision.
"I'm so happy to be in the Hall of Fame, I no longer have a fastball, I no longer have a bad mullet, and my scowl is gone".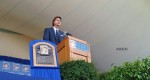 Those were a couple of the best lines from Johnsons speech. He fought back emotion when talking about his late father and singling out his mother "Thank you, mom. You are the Hall of Famer…I love you so much."
One lighter moment, Johnson turned to Hall of Famer Reggie Jackson and said "It would have been really fun to face you, Reggie".
Johnson is the first player to go into the Hall of Fame wearing a Diamondbacks cap.