NBA free agency took an odd turn Wednesday when members of the Los Angeles Clippers took to various modes of transportation to convince recently, but not officially, departed center DeAndre Jordan to not sign with the Dallas Mavericks.  With the moratorium period in effect where teams and players can only making deals in principle, Lob City had a shot to bring back it's mayor.  
Both Mavericks and Clippers players took to Twitter to show the lengths they would go for a touted big man.
✈️

— Chandler Parsons (@ChandlerParsons) July 8, 2015
?

— JJ Redick (@JJRedick) July 8, 2015
✈️??

— Blake Griffin (@blakegriffin32) July 8, 2015
Even Paul Pierce tried his hand at wooing Jordan back to Los Angeles. 
— Paul Pierce (@paulpierce34) July 8, 2015
Good try, Paul. Good effort.
Griffin also illustrated the lengths the Clips went to get that meeting with DJ (and make sure Mark Cuban didn't get near).
Don't agree with the furniture layout but I'm not an interior designer. pic.twitter.com/23PNgQB88z

— Blake Griffin (@blakegriffin32) July 9, 2015
Needless to say, the pitch worked.  DJ is coming back to Los Angeles, and the Mavericks are left out in the cold.  
 Then things got a little hairy.
ESPN's Chris Broussard sent out a series of tweets regarding Mavericks Owner Mark Cuban's efforts to try and get in contact with Jordan.  According to Broussard, Cuban scoured the streets of Houston, searching for Jordan's home. 
Clippers stalling, trying to keep DeAndre away from meeting with Cuban

— Chris Broussard (@Chris_Broussard) July 8, 2015
As of right now, DeAndre Jordan is returning to the Clippers, according to source present at this afternoon's meeting with Clippers

— Chris Broussard (@Chris_Broussard) July 9, 2015
Sources: Cuban is beside himself. Driving around downtown Dallas begging (thru texts) Jordan's family for address to DeAndre's home

— Chris Broussard (@Chris_Broussard) July 9, 2015
CORRECTION: Sources: Cuban beside himself. Driving around downtown HOUSTON begging (thru texts) Jordan's family 4 address to DeAndre's home

— Chris Broussard (@Chris_Broussard) July 9, 2015
I'm picturing Cuban manning a war rig, Mad Max style, searching the deserts of Houston with a entourage of dirt bike-riding war boys trying to track down his coveted big man.  
But Cuban colorfully told Broussard that was not the case.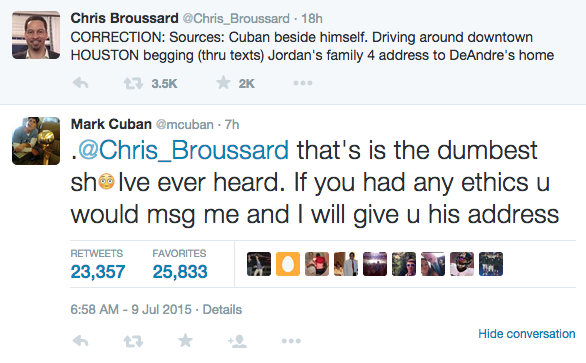 @Chris_Broussard post what you have. I have the facts you got lied to

— Mark Cuban (@mcuban) July 9, 2015
 And then the Shark Tank on-air investor threw the reporter an offer.
@Chris_Broussard how about this. You post any proof I was calling/texting his friends asking anything I give 100k to charity of yr choice.

— Mark Cuban (@mcuban) July 9, 2015
The shots were fired in 140 character bursts, and we were all along for the ride. Social media, specifically Twitter, has changed the reporting landscape forever.  Imagine if it were around 10-20 years ago.  What type of Twitter exchanges would Reggie Miller and Spike Lee have during the heat of the Pacers-Knicks bouts? Can you imagine the trend topic "Michael Jordan takes up baseball" on your sidebar? What poetic jabs would Ali have taken an upcoming foes?
We are in an age where athletes, and thus their negotiations, have never been closer to the fans. Players and teammates are doing their own reporting as rosters take shape this offseason.  The emojiplosion (patent pending), while humorous, kept fans in the loop to a degree. The players helped tell the story of Jordan's short-lived breakup with the Clips.
And then there is the whole Broussard-Cuban throw-down.
Twitter beefs are nothing new, but due to the uniqueness of this rescue plan and Cuban's unwillingness to back down when he feels misrepresented, it made for Twitter gold.  Before social media, these exchanges might have happened over the phone or exchanged through the grapevine of newspaper quotes or the TV airwaves.  But today they are direct shots over Twitter, whether it's Cuban questioning Broussard's ethics or Broussard asking Cuban why he flew all this way to text…and we all have a front-row seat to the battle royale.
As we await the upcoming NBA season, let's hope Cuban and Broussard exchange a few more blows, and social media national treasure Paul Pierce continues to tweet so we can kick our feet up, grab some popcorn and enjoy the fireworks.