Aroldis Chapman should be the next closer for the Arizona Diamondbacks.
"The Cuban Missile" is the bullpen ace(15 saves in 16 chances) for the Cincinnati Reds, a team that has totally underachieved this year.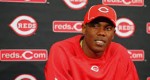 He is going to be a free agent after the 2016 season, the time for the Reds to get something for him is now.
Chapman holds the record for the fastest recorded pitch speed in Major League Baseball history at 105 mph. More importantly, he would fill a much-needed void here in 2015 and beyond.
Former closer Addison Reed is in AAA Reno, Brad Ziegler has done a solid job, but he is better suited as a setup guy. While I like Daniel Hudsons potential as a closer,Chapman is a game-changer right now.
The Diamondbacks would be rolling the dice in taking on a player who could leave in a year and a half, but they would have time to work on an extension. It would be on THEM to get a deal struck to keep the 27-year-old lefty in Arizona after 2016.
The price tag to get Chapman would surely include a couple of the Diamondbacks young arms, but if you look at the pitching within the organization, I can throw at least ten names at you for potential starting pitchers. There is depth.
Someone is going to swoop in on Chapman, why not right here in Arizona?