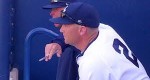 Arizona Wildcat baseball program have a new leader for the first time in 14 years. Jay Johnson, the head coach at Nevada, will be introduced  Monday at a 1pm press conference on campus.
I hope everyone will welcome @UACoachJ to the Arizona family. @ArizonaBaseball #BearDown

— Greg Byrne (@Greg_Byrne) June 8, 2015
Johnson was named Mountain West Conference Coach of the Year this past season, while leading the Wolfpack to a 41-15 record this past season.
Johnson has spent his baseball coaching career on the west coast between the  University of San Diego and Point Loma Nazarene College.
Here are more highlights about Johnson,
Jay Johnson Coaching History
· Nevada Head Coach (2014-15)
· San Diego Associate Head Coach (2006-13)
· Point Loma Nazarene Head Coach (2005)
· Point Loma Nazarene Assistant Coach (2002-04)
Coaching Highlights
· Led Nevada to 72-42 record last two seasons
· 2015 Mountain West Coach of the Year
· Led Nevada to 41 wins in 2015 (second-most in program history).
· Won school's first-ever Mountain West Conference championship in 2015.
· Wolf Pack players won the league's Player of the Year, Pitcher of the Year & Freshman of Year accolades in 2015.
· Two players garnered All-America honors and a third was named a freshman All-American in 2015.
· Nevada finished 2015 top-five nationally in batting and scoring.
· Wolf Pack drew first-ever home sellout in 2015.
· Helped USD make six postseason trips from 2006-13.
· Coached 2013 Dick Howser Award Winner Kris Bryant, the No. 2 overall selection in the 2013 draft and a current rising star for the Chicago Cubs.
· Helped sign No. 1 recruiting class in 2008 and No. 2 class in 2010 at San Diego (Baseball America).
· Led PLNU to a 37-16 record as head coach in 2005. Previously worked as an assistant and led program to NAIA World Series in 2004.