There should be a fan section this coming Cardinals season that is called "Rooting For Rodney". 4th round draft pick Rodney Gunter and two brothers were raised by his mom. Dad was in and out of prison.
In high school he had to work to help out the family. His job was a dishwasher and a waiter at a retirement home in Haines City, Florida. He worked 32 hours a week, so football wasn't an option until his senior year of high school. Gunter said yesterday that he's going to buy his mother a house with his first NFL check…
Arizona guard T.J. McConnell was not invited to next weeks NBA Combine in Chicago.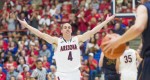 Between 60 and 70 players are invited to the event each year so I understand that not every player can go. Hard for me to believe that McConnell is now looking like an undrafted D-League player next season…
Bobby Hurley w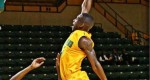 ill have one of the top JUCO players in the nation on campus today and tomorrow. Maurice O'Field, a 6″5 wing from Midland College will kick the tires on Tempe. I would be surprised if he DID NOT commit to the Sun Devils during the visit. O'Field is an exceptional athlete, who had committed to Hurley at Buffalo. O'Field would be the third JC player in this years recruiting class joining Obinna Oleka and Andre Spight…
Small world. Ace NFL columnist Peter King, editor of the MMQB, recently told Sports360az during a interview on the show that he has a distant connection to Diamondbacks shortstop Nick Ahmed. "When I was in high school in Connecticut, I used to double date with the mother of Nick Ahmed. Now how obscure is that? Every day I wake up in New York and look up Ahmed in the box score. I really need him to get a few more hit's…as I'm sure the Diamondbacks do." Random…