Quarterback Phillip Sims, a free agent tryout invite at Cardinals mini-camp this weekend, apparently made a strong impression.
NFLdraftdiamonds.com reported Sunday night that the organization was signing the QB.  This picture of Sims signing with team showed up on Sunday afternoon, The Cardinals have yet to send out a press release that confirms Sims signing.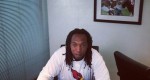 Sims finished his college career at Winston-Salem State, after having stints at Virginia and Alabama.
He is listed at 6″4 210lbs. and threw 15tds at WSS in 2014.
Sims and Arizona State QB Taylor Kelley were both at minicamp this weekend.