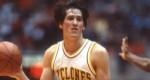 Ames Iowa isn't a pro sports city but it IS where Hornaceck went to college. Iowa State basketball is really good, while the Suns haven't seen the playoffs in five years. Hornacek has one year left on his contract with the Suns and is currently making LESS money than Hoiberg is being paid by Iowa State. Hornack walked on at ISU and earned a scholarship  under legendary head coach Johnny Orr. 
Hornacek should just go.
 
This isn't about NBA vs College. This is all about a really good man having the chance to go back to his alma mater and lead a very good program. None of us could blame Jeff if he decided that this is what he wants to do. 
Once Hoiberg signs the contract with the Bulls next week, Suns owner Robert Sarver should meet with Hornacek and ask his head coach if he wants to go to the Cyclones. If Hornacek truly wants to be in Phoenix, then Sarver should adjust his  contract. He has done a very good job with a jumbled roster, lack of a superstar, and immaturity of players on and off the court. 
 
This isn't something that anyone in the Suns other than Sarver should be involved in.. Owner to coach, "do you want to go home" should be the question asked.
Hornacek should just go.