Arizona State polarizing recruit Thon Maker made his only All-Star game appearance of the Spring over the weekend in California,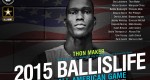 playing in The 5th annual Ballislife All-American game Saturday night at Long Beach City College.
Maker was named MVP of the Team Elite with a stat line of 17 points, 6 boards, and 3 assists.
The 7″1 center also made 8 of 8 3 pointers in the the 3 point contest on Saturday night.
7'1 center @ThonMaker14 made 8 out 8 3-pointers in the #BILAAG 3-point contest pres by @eastbay this past Saturday! pic.twitter.com/3KEZoZ4efL

— Ballislife.com (@Ballislife) May 4, 2015
Arizona State assistant coach Brian Merritt, who was hired last month, worked previously under Camp director John Lucas who is very close with the Maker family.  Sun Devil head coach Bobby Hurley is battling Kentucky, Indiana, and Kansas for Makers commitment. There are several other options for Maker in the next few months including heading back to Prep School in Canada or playing professionally overseas.