Arizona State head basketball coach Bobby Hurley has the position of point guard loaded up the next few seasons. After a week of speculation, Buffalo transfer Shannon Evans has committed to the Sun Devils.
Evans put up solid numbers for Hurley last season, averaging 15.4 points per game. Per transfer rules, Evans will have to sit out the 2015-16 season.
Point guard Tra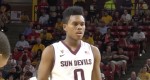 Holder, who put up a solid freshman season, has said that he will remain with the Arizona State and the new head coach. Holder earned Pac-12 All-Freshman honors, averaging seven and 3.6 assists last season. 
Hurley could have a battle at the starting point guard position between Evans and Holder in 2016-17, but of course, a lot can and will happen before then.