84 wins are coming for the 2015 Arizona Diamondbacks. Crush me all you want. They are 20 games better than a season ago in my mind. It's not really that hard to make this call.
Paul Goldschmidt is an MVP candidate who missed 53 games a season ago. Put him on the field(where he doesn't get enough credit) and have his bat in the lineup and right there I see some wins.
Mark Trumbo only made his way into the lineup for 88 games in 2014 because of a fractured foot.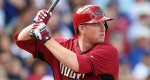 He will bat in the cleanup spot against left-handed pitchers and should see some good pitches following Goldschmidt in the lineup.
Yasmany Tomas, Jake Lamb, Nick Ahmed, and Chris Owings are all going to see the field in 2015. The youth movement is the right call by Tony La Russa and Dave Stewart. There may be some bumps early, but I am betting that the kids will be adequate.
The pitching staff simply can't be as bad as they were a season
ago. A 4.26 ERA along with a a bullpen that came out of the gate with a gas-can rather than a glove. I am anxious to see what Archie Bradley can do, but the pressure isn't on him as it would've been a year ago when he was being talked about as a top of the rotation guy.
Closer Addison Reed blew six saves last season and gave up 11 home runs. I am betting that he will be better than a season ago.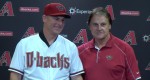 The overall environment of the team HAS to be better than 2014.Chip Hale comes in as a breath of fresh air from the "Gibby Ball" era. The front office has cleaned out some names that needed to move on with their careers. I know that a 20 win improvement seems like a big number and highly unlikely in April, but I do believe in the direction of the organization. Hard to doubt the ability of La Russa.