How much money will Justin Bethel want for his number #28 if Adrian Peterson and the Arizona Cardinals can work out a deal?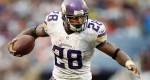 I bring this up because next weeks NFL Owners meetings are sure to bring more fuel to the Peterson story. Yahoo Sports is reporting that the Cardinals would consider trading a second-round pick for the star running back and look at hammering out a new contract.
http://sports.yahoo.com/news/sources–adrian-peterson-s-camp-rejects-meeting-with-vikings-194203605.html
The NFL Network reported that Vikings General Manager Rick Spielman requested a dinner with Peterson's agent, Ben Dogra, at the meetings which will be held in Phoenix at the Biltmore. Yahoo and the NFL Network both reported that the meeting was rejected by the agent. Is this good news for the Cardinals?
NFL Networks Ian Rapoport reported that the Cardinals and Jacksonville have become the two main landing spots for Peterson if the Vikings decide to trade him.
Dogra has told media outlets that Minnesota will NOT cut Peterson, who is scheduled to make $13 million next season.