What a run the Northern Arizona Lumberjack basketball team has been on over the last couple of months. On Friday night, they made their first appearance in the Big Sky Semi's since 2011 and had a shot to get their 20th win of the season in pursuit of a Big Sky Championship appearance.
The Lumberjacks faced Montana who has been a conference nemesis both on the basketball court and on the football field for many years. The 'Jacks trailed for much of the game and found themselves down six at the final media timeout. But NAU would put together a late run and had two free throws from Kris Yanku to tie the game at 59 with 8.2 seconds left. Montana would then race down to the other end and guard Jordan Gregory would convert a lay-up with 0.4 remaining on the clock.
That is where the crazy finish turned to controversy. If you view the video above, it looked as if a member of the Montana coaching staff raced out onto the floor thinking the game was over. Video above (via Dan Cimmino of a CBS affiliate in Montana) showed as if he almost raced out as far as the free throw line. Then as NAU looked to inbound the ball, the coach dove back to the bench.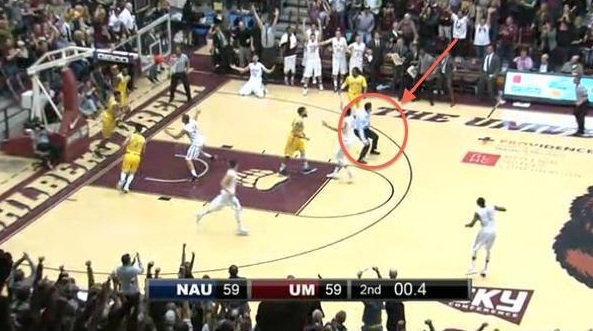 By rule, that is a technical foul which would have given NAU two free throws to tie the game. However the officials met, looked at the video monitors and decided to just put 0.4 seconds left on the clock. Yanku would heave a three-quarters shot that hit the backboard and NAU lost the game.
NAU Head Coach Jack Murphy was hot at the conclusion of the game and as he and Montana head coach Travis DeCuire went to give post game hand shakes, the two got heated which started a big scrum on the court between the two teams forcing players and coaches to have to be restrained.
It was an unfortunate ending to what was a great game and a great season for NAU who was in pursuit of a birth in the NCAA Tournament. The Lumberjacks are still in contention for another post game tournament with their 19-14 record which they will learn where they stand Sunday.
"Our guys fought to the end up until the final buzzer," said head coach Jack Murphy after the game. "For us to battle like that and tie the game the way we did at the end says something. This program is headed in the right direction and we have to take it all and learn from it. You have to give credit to these players. They're a great group of guys and I'm lucky to have them."