"It's something beyond coaching"
Arizona' Sean Miller is known as a terrific X and O head coach, but   the human side of him showed up when talking about Saturdays  March Madness matchup against his close friend, Ohio State head coach Thad Matta. "It's hard to play against someone who you care about now, but this is the third time that we've played, and it gets to be less of a burden, it feels more natural now". 
 Matta and Miller were assistant coaches for Herb Sendek at Miami of Ohio back in the mid-90's. The two have come a long, long ways. "It's a friendship of great meaning", Is how Miller put it. Matta was very straight-forward on the relationship "All of us have a few people in your lives that you really, really trust and admire, Sean is without a doubt one of those guys to me". 
Both coaches didn't give any hints that the two could meet down the road in a regular season game, though I think that would be a terrific for college basketball fans if they did. Matta said there was some dialogue between the two in the past on the subject. "We talked about it a few years back, the hard part is the time change on a one game deal". It's too cold in Columbus", Miller joked, "No palm trees, we like the warm weather, we will just watch them on TV and stay warm".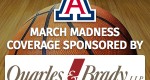 Miller would add a bit later, "that's what makes this tournament so captivating". Couldn't put it any better…