Perry high school star guard Markus Howard pulled his verbal commitment away from Arizona State basketball coach Herb Sendek on Monday.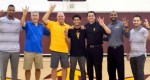 Last August everyone was smiling. That probably wasn't the case on Monday
Howard is a talented player, who in my opinion gave his verbal WAY too soon. 
I have no problem with what the young man decided to do.
The news of Howard pulling out left the fan base that remains around ASU basketball up in arms. I was at a business meeting on Monday that included a half dozen Sun Devil basketball season ticket holders. Not one of them want Sendek to return. It doesn't help when Arizona State fans have to see, hear and read how University of Arizona fans rolled in by the thousands at the Pac-12 Tourney and turned the MGM Grand into a Wildcat convention.
Outrage has turned into apathy. The only real interest that the basketball program drummed up late in the season was the famed "Curtain of Distraction" and home wins over Arizona and UCLA. Losing to the worst team in the conference, and the WAY they blew the game against USC in Vegas, is enough to have people questioning what's going on with the program. But so should a home loss to Lehigh, a dreadful showing at Washington State and the stomping that Utah put on them in Salt Lake City.
To be fair, here's the other side of the story that you don't often hear or read about.
Two of the biggest names in college basketball, Jay Bilas and Bill Rafftery have been on my show in recent months. Both of them swear by Sendek and his coaching skills. That's great, but what does the record show after nine years?  Are Dr. Michael Crow and A.D. Ray Anderson having any conversation about the state of the basketball program?  If so, it would be wise to step to the podium and say "all is well, Herb is our coach" or move swiftly the other direction. The basketball program at ASU has been for the most part an enigma, a mirage, a mystery for as long as I've been in Phoenix…