Is Arizona State basketball viewed as a desirable destination for the
hottest coaching candidates in the nation right now?
Would Shaka Smart at Virginia Commonwealth, Greg Marshall at Wichita State or Archie Miller at Dayton come running to Tempe?
What is the proven track record over the last twenty years for Arizona State? Not much.
So, does the flavor of the day, Duke assistant Jeff Capel make sense for the Sun Devils to name as the Herb Sendek replacement? Is the price tag of an established assistant easier to push through than a big name? Can a basketball coach at Arizona State make more money than Todd Graham? 
Duke head coach Mike Kzyzewski said earlier today "i get inquiries about Jeff all the time, Jeff is really good". At first glance Capel can really recruit, but he's recruiting to DUKE, not Tempe.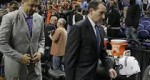 Capel was instrumental in landing Jabari Parker, Jahlil Okefor, and Tyrus Jones for the Blue Devils.
When he was the head coach at Oklahoma, he brought in Blake Griffin.
It all SOUNDS good, but here's the thing. Can he be a GREAT head coach?
The elite coaches, the ones that make March Madness every year, will out X and O those who can't get it done in the closing seconds.
Capel was 96-69 in five seasons as head coach at Oklahoma. He had Blake Griffin for two seasons. After Griffin left, the Sooners went 27-36. So let's slow down the process and see what other names come to the surface. I think some very intriguing possibilities could be out there once we get to next weeks Final Four.
A Duke assistant to Mike Kzyzewski will only take you so far. Look at Johnny Dawkins at Stanford or Steve Wojciehowski at Marquette. It's not like those programs are in far better shape than Arizona State.