There's meeting hype. Then there's exceeding it. Then there's what Corona del Sol's Alex Barcello and Perry's Markus Howard did Monday night.
The duo is considered by many to be the top two guards in the state. Lofty reputations as both are just sophomores, but man can they play. The two squared off to the enjoyment of a packed gym at Perry Monday, and Corona del Sol earned a hard-fought victory, 106-92.  Barcello ended the night with 51 points, Howard with 47.
The comparisons have started between the two, and will probably continue until they are playing at the next level. Rather than trying to figure out who is better, focus on this, and enjoy the ride: Both are among the state's elite, deadly from behind the arc, can attack the basketball, play defense, and will most likely stay out on the floor all game.
In fact, what might have been one of the few times either player stepped off the court was when Barcello had to leave the court with a gash above his eye. Ironically, Howard suffered a similar injury that required 12 stitches earlier this season. Barcello returned later in the second half.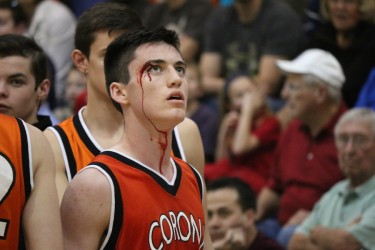 The duo has played together for many years in club and AAU circuits. Going up against each other brings out the best in each guard.
"We've been playing against each other since we were little, and we've always had good one-on-one games in competition.  We just know that we're both great players. We're humble and we just have to keep working hard and that's what makes us (have) good competition. We don't worry about the hype," Barcello said.
Barcello and Howard are among Arizona's elite, but that's not the only talent on the floor Monday night. Corona's Dane Kuiper and Marvin Bagley III are among the best players in the state as well.   The crazy part? Aside from Kuiper, all of these players are underclassmen. Barcello and Howard are sophomores, and Bagley, who is fresh off an offer from UCLA, is a freshman.
"People don't really understand what Arizona has when it comes to basketball. We have a lot coming up," Howard said. "We do have a lot to offer. We do have a lot of the best players, so I'm just really happy to see that Arizona basketball is really evolving."
As Arizona prep basketball continues to evolve, the state, and the nation, will be watching to see what these playmakers do as they develop into upperclassmen and elite prospects. With Barcello and Howard combining for 98 points as sophomores, there's no telling what they will do come senior year.