Alex Barcello did something I've never seen done on Monday night- he scored 51 points despite taking under 25 shots and shooting less than 10 free throws. 
In Corona del Sol's 106-92 point win over Perry, which saw Markus Howard score 47 of his own, Alex Barcello put together one of the most masterful and efficient scoring performances in Arizona high school basketball history.  Barcello was 19/24 (79%) from the field, including 4/6 from long range and 9/9 from the foul line. He never shot the ball when he wasn't open, always looked to pass to the open man, and wasn't attempting to pad his stats late in the fourth. One day after this epic performance, Barcello, a sophomore, became the fifth-ever in-state guard offered by University of Arizona during Sean Miller's tenure. The previous four were Daniel Bejarano, Jahii Carson, Jaron Hopkins and Dorian Pickens. 
I went back and watched the Sports360AZ Perry student broadcast of the game and broke down Barcello's incredible game quarter by quarter.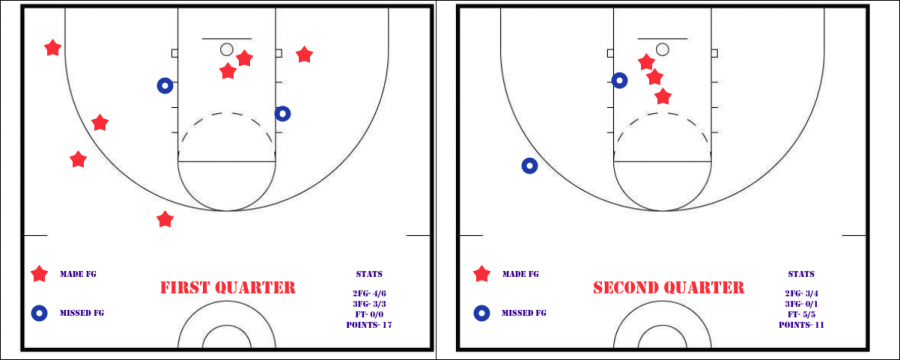 Barcello came out fast in the first. It was easy to tell he was feeling it, as he knocked down three from the outside, as well as a long two. In the second quarter, Barcello took to the offensive glass, drawing fouls and hitting all five of his free throws. At one point, Barcello was fouled while driving the lane, turned his back to the basket, and just flung the ball up over his head. Of course it went in, because no 50+ point game would be complete without one or two miracle shots finding their way through the net.

The third quarter is when Barcello's killer instinct took over. He saw a weakness in Perry's defense when he slashed from the left to the right side of the hoop, so he did it over and over and over- making all five of his running layups. In the fourth, Barcello couldn't miss, but with Corona pulling away, he refused to force this issue. With a gash opened up above his eye, he sat at 49 points for a long portion of the fourth, choosing to pass on opportunities to eclipse 50. It wasn't until he was fouled while dribbling out the clock with just over 30 seconds left that he eclipsed the half-century mark for the first time in his high school career. 
So what's the big deal with scoring over 50 on less than 25 shots and 10 free throws? Well, it just doesn't ever happen. Take Michael Jordan, who, including playoffs, scored 50 or more points 38 times in his career. The lowest number of field goal attempts he ever had in one of those games was 25, when he went 16/25 for 58 points against the Nets 28 years ago this week- but he had to go 26/27 from the free throw line to make up for the rest.  Kobe Bryant has scored 50+ on 25 separate occasions, but his lowest shot total was also 25., Bryant did score 50 while hitting less than 10 free throws on four occasions, but jacked up an average of 37 shots per game over those four contests. Of course, Barcello doesn't belong in the same breath as any player who has managed to score 50+ while playing against the best competition in the world, but it just goes to illustrate how rare of an accomplishment Alex Barcello had in 32 minutes of action against Perry on Monday night. It's a performance I won't soon forget.