The venue may have changed names, but it is still considered the destination place for the wrestlers across the state.
The newly named Prescott Valley Event Center, formerly Tim's Toyota Center, will be the site of three straight days of Arizona's state championship bringing most of the state's top wrestlers (Division I sectionals be damned) to one event.
Here is a breakdown of what we might expect to see over the next three days.
Division I 
(Friday through Saturday with the finals at 4 p.m.)
Toughest weight class: 138 – Corona's Marc Farina will take on the winner of Ironwood Ridge's Kyle Taylor and Mountain Ridge's Jarod Bresser in the second round. In the bottom half of the bracket, Sandra Day O'Connor's Taylor Rich, Mesa Mountain View's Merritt Taylor and Chandler's Joel Rico are a all lurking.
Most anticipated finals match: 132 – Sunnyside's Juaquin Olivas (46-2) vs. Boulder Creek's Cory Crooks (41-1). Should it come together, it is a rematch of the Flowing Wells finals. Olivas seemed to control the tempo in a 3-2 win but Crooks nearly got the winning takedown in the final 20 seconds only to be called out of bounds.
Worst draw:   Desert Vista junior Alex Carrillo (Desert Vista, 31-2) gave up a 5-point in the final stages of sectional finals match to go in overtime and eventually lost against Sunnyside's Angel Laguna.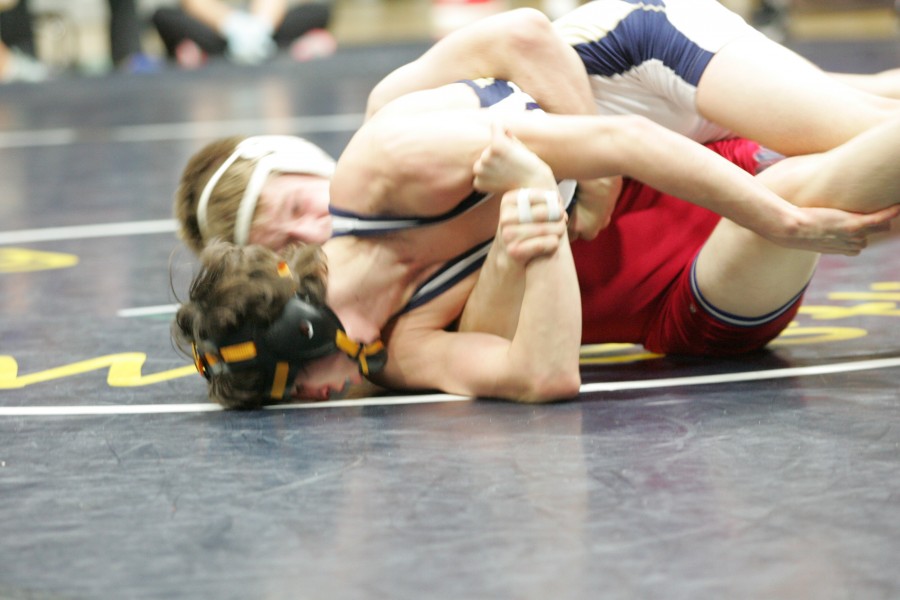 The repercussion will come in the second round when the Thunder junior will have to face top-seeded Paden Mason of Mesa Mountain View. Mason had a pin in last year's state semis against Carrillo and beat him at the Flowing Wells finals this year.
The Carrillo-Mason matchup was expected to be the finals, but in correct seeding procedures have it happening in the second round.
Division II
(Friday through Saturday with the finals at 4 p.m.)
Toughest weight class: 195 – Three guys with one loss on the season with Prescott's Daniel Hernandez (42-1), Sunnyslope's Davin Woolridge (47-1), Vista Grande's Sam Reeves (50-1) make it about as tough as it gets.
Most anticipated finals match: 138 – Catalina Foothills' Zach Davis (58-1) vs. Marcos de Niza's Ryan Sondrup (44-2).  These two juniors found the podium last at different weight classes. Chances are one of them will standing on top this time around.
Division III
 (Thursday through Friday with the finals at 7 p.m.)
Toughest weight class: HVY – It just might be heavyweight as seven wrestlers have at least 20 wins with less than 10 defeats. Amphitheater's Chris Sanchez (41-2) is the favorite, but there are going to some challenges along the way. 
Most anticipated finals match: 160- Williams Field's Chandler Follett (36-0) vs.  Amphitheater's Rafael Parades (43-2). Follett has seemed to be on a mission since losing in the state semifinals last year and Parades has made a huge leap from last year when he didn't place at state to finishing as a runner-up at Flowing Wells. 
Division IV
(Thursday through Friday with the finals at 7 p.m.)
Toughest weight class: 126 – Benson's Ross Ens (39-5) leads it off after finishing third last year and Camp Verde's Ezekiel Casillas (34-5) who finished fourth last year. Add Joseph City's Wryder Richards (35-2), St. John's Dawson Avila (38-8) and three other competitors with at least 27 wins and its going to be tough earning a medal. 
Most anticipated finals match: 132 –Round Valley's Ethan Workman (39-1) vs. Camp Verde's Matt Mejia (41-2). Workman goes for his second state title (1 second from having two in his pocket after finishing second as a freshman), while Mejia finished fourth last year and has only gotten better working in one of most intense practice rooms in the state.