I believe that the NFL has to be LOVING all of the attention that has been given to the Patriots controversy around deflated footballs. People who don't know and don't care about the NFL have been reminded over and over for the last week that a rather large football game is going to be played by a team that perhaps cheats.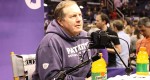 With that as the backdrop, I believe that the television ratings for this Sundays game will far exceed the 111 million from last year. NFL people will scoff at this, but I don't believe for a minute that they aren't privately giddy over the ability to reach new audiences by this story…
UCLA basketball could use Corona Del Sol freshman Marvin Bagley on their squad today!!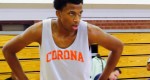 The Bruins offered the 6″9 post player on Tuesday. Too bad he has three more years of high school basketball…
Just a week to go before National Letter of Intent Day in Football. Arizona State is in on several players, but one name in particular keeps popping up from the fans. 
Porter Gustin from Salem, Utah is rated as one of the top uncommitted players left on the board. The inside linebacker visited Arizona State this past weekend. He will be on the campus of Utah Wednesday and Ohio State this weekend…
Arizona State is hunting for big game in their 2016 football class . Tuesday the Sun Devils offered Hampton, Virginia product Robbie Robinson. He's rated as the No. 9 athlete prospect in the nation…