Two games into what is being viewed as a "must win season" for Arizona State head coach Todd Graham, the Sun Devils are 1-1. In both games they haven't looked much different from the team that missed out on a bowl game in 2016. The numbers simply don't lie. Saturday nights 30-20 loss to Mountain West Conference opponent San Diego State didn't provide much evidence that the program is heading in the right direction. Here's a few quick hits after this one…
Penny For Your Thoughts!
Aztecs running back Rashaad Penny averaged 12 yards per carry against Arizona State. 12!!!!! He finished the night with 216 yards on the ground on just 18 carries. His 95 yard touchdown run in the opening quarter set the tone for the rest of the night. Penny had 353 all-purpose yards against the Sun Devils. ASU finished with 342 total yards for the game. The Sun Devils could only muster 44 rushing yards on 31 attempts(1.4 yards per carry).
Mistakes and Miscues.
Along with the Penny TD run, the special teams were anything but "special". After the Sun Devils had tied the game at 7, Penny took the kickoff from freshman Brandon Ruiz and raced 99 yards to the end zone. The punt game, especially during crucial times late in the game, didn't produce.
Protection?
Let's not sugar coat this. The offensive line play through the first two games hasn't gotten the job done. Ok, I tricked you.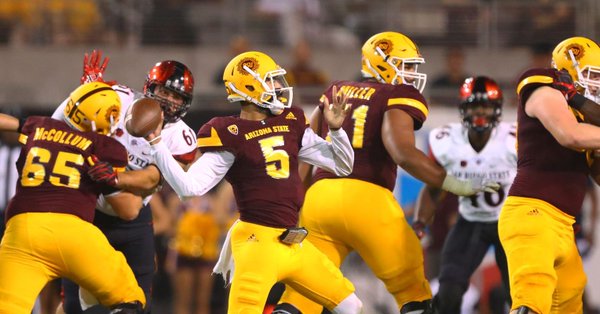 I did sugar coat this. All of us can see what's happening. You don't need a seat in the press box to see Manny Wilkins is running for his life. You don't need a badge to stand on the sideline to see that in the waning moments of Saturday night, EVERY play SDSU(Not USC or Washington) were teeing off on the ASU quarterback.
Look, holding off New Mexico State and getting run over by San Diego State when you're on the "hot seat" isn't going to do much of anything except turn up the heat even higher(rightly so). Trying to find ways to distract attention from the on-the-field product isn't going to work either. I am finally hearing from fans who have had enough talk about new uniforms, new helmets, new video board, flames in the end zone, etc, etc, etc. All of the ancillary stuff doesn't cut it when the football program looks sloppy. Facts are facts. Fans don't want to hear the head football coach talk about how great it is to be a Sun Devil, when the Sun Devils aren't close to being great on the field…pretty simple…