June 17, 1992.
The day the Phoenix sports landscape changed forever. The day that Phoenix truly became a big league sports city. The day that saw Tim Perry, Andrew Lang and fan favorite Jeff Hornacek head to the City of Brotherly love in exchange for royalty.
Sure, the Valley had been home to the Suns since 1968, the Cardinals since 1988 and had seen stars like Dick Van Arsdale, Connie Hawkins, Paul Westphal, Alvan Adams, Walter Davis, Larry Nance and Tom Chambers pass through, but all of it paled in comparison to what was about to hit the city harder than a monsoon storm in the middle of July.
To understand the reason for such a seismic shift in the fabric of the Valley's first professional franchise, you have to understand the roller coaster ride that had been the previous five years.
April 17, 1987 could be best described as the polar opposite of June 17, 1992. It was the day the Suns franchise hit rock bottom. On that day a grand jury in Maricopa County indicted three Suns (James Edwards, Jay Humphries and Grant Gondrezick) on cocaine trafficking and granted immunity to two others, guard Walter Davis and rookie center William Bedford. It was a scandal that rocked the franchise to its core, despite falling apart 13 weeks later, and put it on the verge of leaving the city or going away altogether.
"I felt pressure, subtle or whatever, that there were some people in this league not so anxious to see this thing resolved so that Phoenix lived happily ever after," he says. "Maybe they felt it was best if this franchise wasn't even here." Jerry Colangelo told Sports Illustrated in 1987. "Might have been the league office."
Almost four months to the day on August 16, 24-year-old backup center Nick Vanos died in a Northwest Airlines jetliner crash that saw 153 other passengers perish just shortly after leaving Detroit's Metropolitan Airport.
A drug scandal and a death of a promising young player put the Suns in a dark, dark place but as they say, it's always darkest before the dawn.
That dawn came in October as Colangelo, who had been with the organization since day 1, put together a group of Phoenicians to buy the team for $44.5 million to ensure they remained in the Valley. He cleaned house of all involved except Walter Davis, although his time with the team was coming to an end as well, and began to right the ship.
During the 1987-88 season the Suns sent Larry Nance to Cleveland and got Kevin Johnson, Mark West and the draft pick that would be Dan Majerle. In the offseason they signed the first ever restricted free agent Tom Chambers and the foundation for the greatest turnaround in the NBA to happen in the 1988-89 season.
From that offseason through the 1991-92 season the Suns sported a 217-111 record making the playoffs all four seasons and reaching the Western Conference Finals two of those years. The ceiling had been reached. The Suns were good, but not good enough to climb the NBA mountain and reach the elusive Larry O'Brien trophy.
After being eliminated by the eventual Western Conference champion Trailblazers in 1992 a moment that would live on in Suns lore happened. Assistant coach Lionel Hollins, as he was walking off the court in Portland, said to no one in particular, "What we need is a Charles Barkley."
June 17, 1992: The Day Charles Barkley Arrived in Phoenix.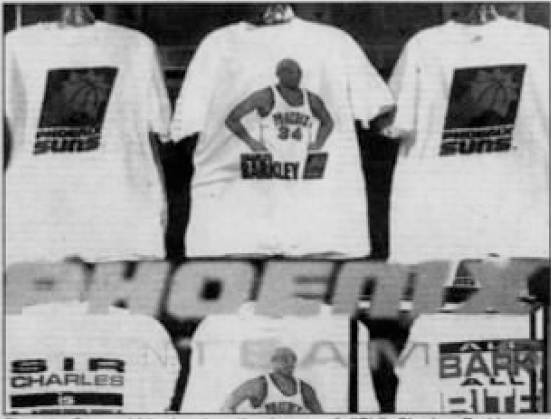 Jerry Colangelo, Suns President and CEO: We were a little frustrated because we couldn't get over the hump. Therefore, we said, here's an opportunity. It's going to cost us. It might be considered risky by some but it certainly, on paper, appeared to be an opportunity to get us over the hump.
Charles Barkley: I was on trial for beating the hell out of a guy in Milwaukee. I got acquitted because I didn't do anything wrong, I fly back to Philly with my agent. He says, 'Let's get together on this letter.' I was writing a letter to the 76ers saying, 'I don't ever want to play here again. I don't want to make a big stink, the fans have been great to me. Y'all not giving me any help, I'm never going to play here again.'
Jude LaCava, Host of the 620 Sportsline on KTAR 620: Charles brought with him all kinds of controversy from a standpoint of his days in Philadelphia. Truly the timing of what happened was right on. He had worn out his welcome in Philly.
Bob Young, Suns Beat Writer Arizona Republic: There had been rumors about a possible deal for either Hakeem Olajuwon of the Rockets or Barkley. If I remember correctly, Olajuwon wanted to be traded but he and Les Alexander spoke on a flight to Japan and ironed out their differences. The Suns also had some doubt about Olajuwon's health. If you look up old photos from that time, you'll see he wore a full-leg compression sleeve because of blood clots, if I recall correctly. Anyway, they decided to go after Barkley.
Jeff Munn, Suns Public Address Announcer and Public Relations Intern: I don't think there was ever a moment when I heard the rumors that I said to myself "there's no way this won't happen." When it did happen I was like "wow we are really doing this." It was just part of the perfect storm. The arena, the change of uniforms.
Cotton Fitzsimmons, Senior Executive VP of Nothing (A Title He Gave Himself): We had to make a change in personnel to get to the next level. I can't think of another player, other than a few centers, who might be able to take us to another level better than Charles can. (Told the Media at the time of the trade)
Tom Ambrose, Vice President of Public Relations: The whole league knew that the 76ers were growing impatient with Barkley's antics. A little more than a month later on June 17th, Hollins' words proved prophetic as Jerry Colangelo consummated the deal for Barkley.
Munn: We had been hearing for several days that this thing was going down. The day that we were going to announce it Tom Ambrose calls me into the office and says. 'We're going to announce the Barkley trade and we need you to write the release.'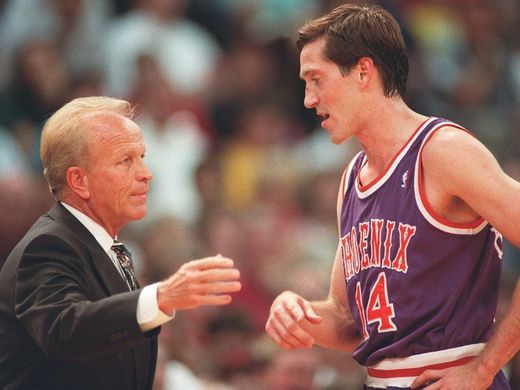 Suns Trade Tim Perry, Andrew Lange and Jeff Hornacek to the Sixers for Charles Barkley

Jim Lynam, 76ers General Manager: We were looking for a package, and once those names were there, we felt it was the package that would get it done. Charles has said he wants to be on a contender, and in all honesty, if we had kept Charles, I'm not sure we could strike that posture. We had to make changes. No one in our organization felt we could come back with the same team. (He told the media at the time)
Jack McCallum, Sports Illustrated Columnist: Changing uniforms and getting to the right place. I don't think anybody thought it from the beginning. I don't think anybody thought 'wow, this is the ideal place [for Barkley].' KJ admitted to me that he was a little hesitant about it. Hornacek was a great Sun. They loved Horny in Phoenix. He was a great team player. Paul Westphal was a new head coach. Had been on the staff. Nobody knew about Richard Dumas, he was a rookie. This idea that it worked out perfectly that season for Phoenix, except for the finals, wasn't all that expected.
Colangelo: When the trade was made with Philadelphia, Jeff Hornacek was the key player involved in the deal. We hated to lose Jeff. Jeff was one of our favorite players in terms of the fans. He was a great success story being drafted the last pick of the second round and earning himself all-league and all-star performance. It was a great story and something we felt badly about.
Ambrose: We hated losing Horny, but to make a deal of that magnitude sometimes you have to lose some things you love. Hornacek was a second round pick who improved his game every year he was with the Suns, upping his value enough to be traded for a bona-fide superstar. Pretty impressive. Interestingly, the 76ers then hired Doug Moe as coach and in his system, Horny was not a good fit. I thought there was a time when we might have been able to get Horny back with the Suns, but Utah made a better deal.
Al McCoy, Suns Play-by-Play: When you make a major trade that is considered controversial, emotions run high. Jeff Hornacek was a fan favorite in Phoenix but you have to give up something to get something. Suns needed a rebounder and an aggressive guy. Barkley was both of those.
Young: Hornacek was one of the most popular players in team history. And he had been such a great story, coming to the team as more of a playmaking guard with a sideways rotation on his jumper. He turned himself into one of the best shooters in the league. There also was a feeling from some fans that the Suns had a good thing going with Hornacek, KJ and Tom Chambers and worried that the team would actually be weakened by the deal. It took about two weeks for the Suns to put those concerns to rest that season.
LaCava: Jeff Honracek was an extremely popular player with Suns fans in Phoenix. Tim Perry was an up and down player that had talent but lacked consistency. Andrew Lange was a well liked player. I do believe Jerry and Cotton, in particular, understood they needed to create a buzz.
Colangelo: There's no question that the toughest part of my position in the various roles I've played is dealing with an individual player either cutting a player or trading them. It's personal. You develop a relationship with each and everyone of them. It's tough. It's tough on the individual. It's tough on the family if they have families. Yet, it's part of the business. Athletes are well paid. Part of being a professional athlete is knowing you may not spend your entire career in one city. Chances are you're going to make two or three stops along the way if you're fortunate and have that kind of an extensive career. If you have any feelings at all, it's hard.

Controversy Follows Barkley Everywhere
LaCava: When Charles came there was a little bit of cautiousness. He had a few incidents in Philadelphia with some fans that didn't go quite well. There was a little bit of concern like 'oh, wow. He's going to be unmanageable. He's his own man. He's an independent personality. He's going to do whatever he wants to do. How are the Suns, more of a traditional NBA team, how are they going to handle this unbridled personality that's liable to do anything at any time?'
Young: That also was in the midst of the Martin Luther King holiday controversy in Arizona, and there was some concern that Charles might say something that ticked off voters and a referendum in 1992 would fail. He got questions about it at every first road stop early in the season. Come to think of it, Charles could probably take some credit for Arizona's King Holiday.
Ambrose: Barkley was already a legitimate NBA superstar and the Suns were desperate for that star player who could push them to the next level, an NBA championship. So Suns fans were predisposed to give Barkley the benefit of the doubt regarding his antics. Interestingly, as I talked to other people around the league and the PR people who were working with him daily during the Olympics, I was hearing nothing but positive reports about Barkley. He was great with the media, he loved getting out and meeting with the people, things you really want to see in your team's superstar. Additionally, when I investigated some of the incidents in question, I found that Barkley was mercilessly hounded by fans to the point that you could at least understand why he'd snap and lash out.
McCoy: Charles really was one of the nicest human beings you'd meet.
Munn: The news media made a big deal of it. Here are the Suns with all these great guys and now they're bringing in this guy with a history and a past. In all honesty, internally I never heard any hesitation. If there had been any second thoughts about should they bring this guy in they wouldn't have done it. Within the organization they felt like they needed a guy with an edge.
Colangelo: We thought about all of the pluses and minuses. After the a lot of due diligence we concluded we were willing to do what we did otherwise we wouldn't have. That's all part of the process of making a deal in professional sports."
Ambrose: Through their mutual association with Phil Knight and NIKE, Cotton Fitzsimmons and Charles already had a relationship. If there were any questions about Charles' character or coachability, Cotton felt that they could be handled and that helped soothe a lot of the doubts.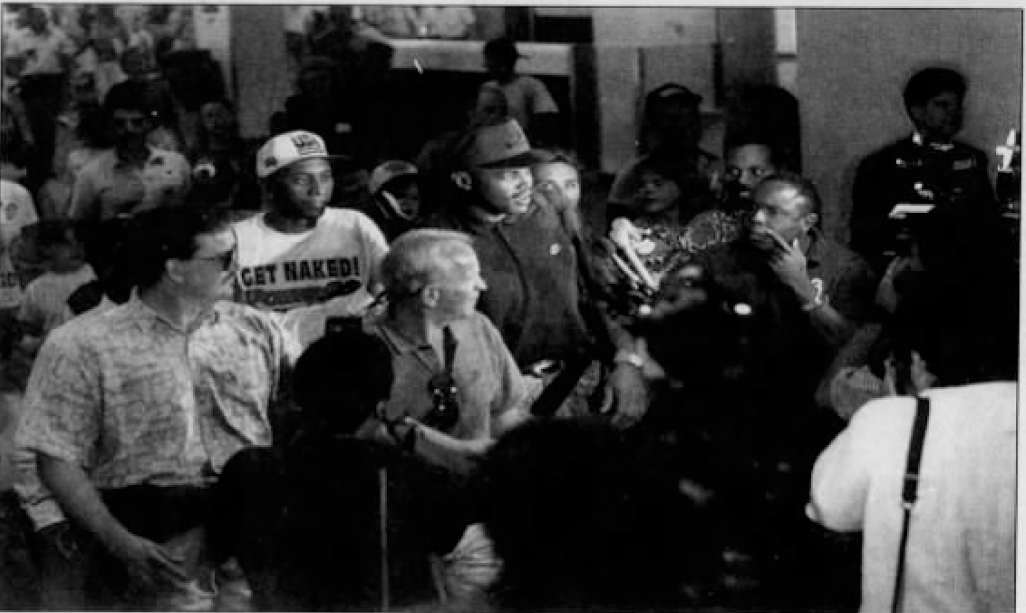 Barkley Arrives In Phoenix
When Barkley arrived in Phoenix for the first time as a Sun he didn't have to worry about hiring a car service or chauffeur to get him to the arena from Terminal 3 of Phoenix Sky Harbor Airport. He had one of the most famous, and previously the most gregarious sports personality, in the Valley there to pick him up, Cotton Fitzsimmons. The Suns VP went all the way to the on ramp of the plane to welcome his new star player and escort him off the plane. (You have to remember these were simpler times where there weren't restrictions about where you could go in an airport without a ticket.)
The two embraced and shared a moment as throngs of media and cheering fans surrounded them like a swarm of bees after a hive is disturbed. The two walked the halls of the airport while local media members peppered him with questions about how he felt — he was happy to be in Phoenix — the weather — it's hot — and his new teammates — he was excited to play with all-stars.
Barkley: [The first Suns representative I talked to] probably was Cotton. I had been friends with Cotton a lot longer. I might've said hello to Jerry a couple times, but it was probably one of the happiest days of my life. I was like, I got Mark West, Ced Ceballos, Majerle and I got Kevin Johnson. I can compete now, that's all I wanted.
LaCava: I'll never forget Cotton Fitzsimmons and Charles Barkley coming off that plane.
The two larger than life personalities got into Cotton's convertible Mercedes and rode with the top down despite it being well over 100 degrees. A temperature not exactly to Barkley's liking. As legend goes, Fitzsimmons didn't miss a beat and turned to Barkley and said: "Look, Charles, everybody knows that eventually, you're goin' to hell. We're just getting you used to the heat." The pair drove to the recently opened America West Arena and entered the arena. Where, according to Ambrose, the following conversation took place.
Ambrose:
"Tell me Charles," Cotton asked the newest Sun, "what do you see?"
"I see seats, coach," Barkley said, "lots of seats."
"That's right Charles," Cotton said, "and every single one of them is already sold!"
"So, Charles," Cotton added, "Tell me what you do NOT see."
"I don't know, coach," Barkley said.
Cotton instructed Charles to "look up."
"I don't see any championship banners, coach," Barkley responded.
"That's right Charles," Cotton said, "You weren't brought here to sell a single seat. You were brought here to win a championship!"
"I've got goose bumps, coach," Barkley responded, "Let's go!"
Barkley: I told Cotton the first day, I said, 'We're going to the Finals because I'm the best player in the Western Conference. I look forward to playing to Bulls in the Finals. He said, 'How do you know we're going to the Finals? I said, 'There's nobody out West who can touch me. I got help now. We're going to the Finals, you have my word on that. We're going to the Finals.' It was really a great thing that I was going to Phoenix.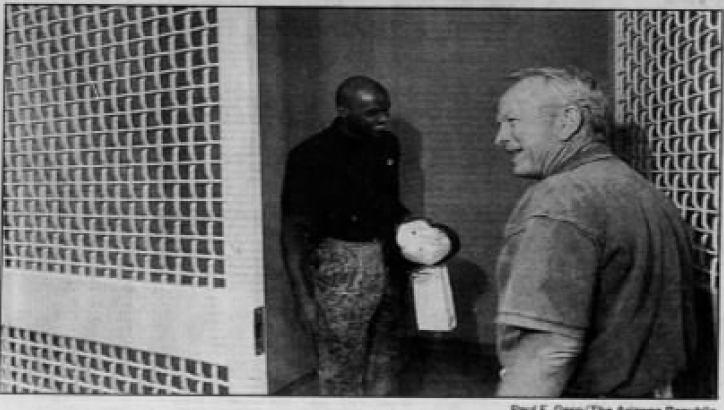 Sir Charles Meets the Media
Ambrose: When Charles was finally done with the Olympics in late August, we set up an informal news conference at the new America West Arena. It was a "get to know Charles" event and it was attended by every media outlet in Phoenix and a few more representing out of town media. Not quite like the paparazzi that followed him around Barcelona, but a really good crowd for the middle of the summer in Phoenix.
I had just hired Julie Fie to be the Suns PR Director and I thought it would be best if she handled this first event and get to know Charles right away. It was a good move because she quickly earned Charles' trust and was often consulted as a "voice of reason."
LaCava: It was absolutely packed. It was in the front lobby area of the arena. It was national media coming in from Los Angeles, New York from Philadelphia. It was every local media member in town. I remember Jerry, Cotton and Charles just stealing the show and the game was on. There was such a buzz in this town that you couldn't get enough of Charles Barkley. You couldn't get enough soundbites, enough quotes, enough information. People wanted to get to know this guy. I always felt like, to use an old school comparision, he was a cross between Richard Pryor and the best basketball player we'd seen in this market in forever. It was packed. It was energetic. People in the media sensed this was going to change this town in a big way. In a much bigger way that it had been before because of Charles' arrival.
Munn: They did it right in front of the team shop. It was really the first real Suns related thing they did in the arena was the Barkley press conference. The double effect was there's Charles and he's a Sun but the media was also standing there with their mouth open like 'look at this place.'
Young: It was the biggest thing I had seen at the point of my career. I was the lead writer on the Penn State-Miami national championship game in the Fiesta Bowl in 1987, but the Barkley trade was huge. They did the press conference in the old lobby area of the arena, and there were hundreds of fan with their faces pressed against the glass to catch a glimpse of him. Reporters from all over the country were there, and there just as many when he came to the first informal workout that he attended at the practice court.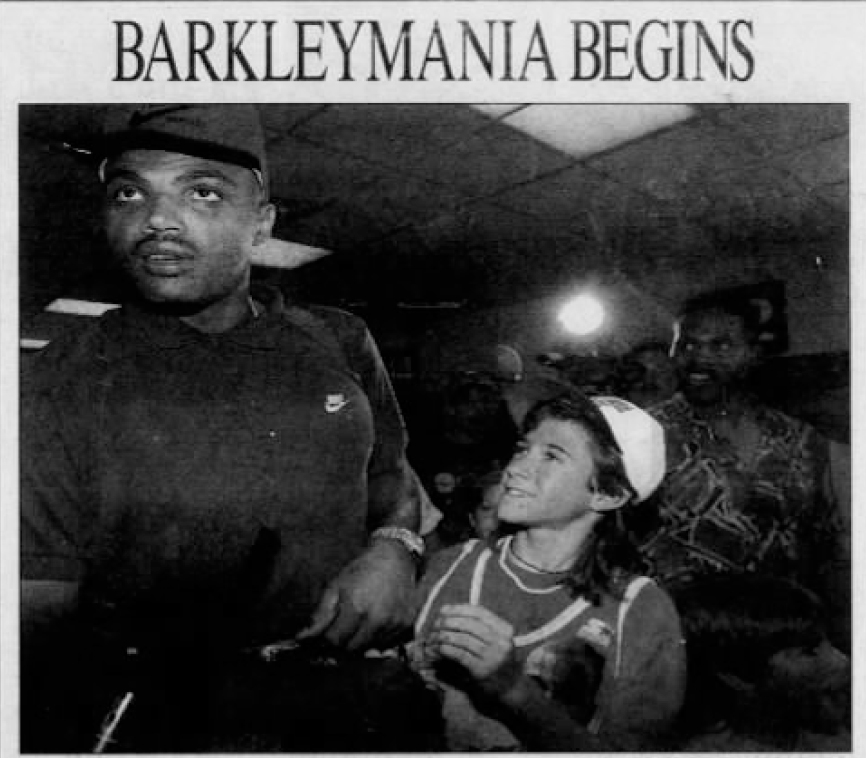 Colangelo: When we opened the arena in the 1992-93 season we were sold out for the year before we played our first game. We had a new coach in Paul Westphal. We had a superstar in Charles Barkley. The year turned out to be one of those premier seasons. We led the league in winning percentage from day one to finish.
Barkley: Dan Majerle, Kevin Johnson and Cedric Ceballos, I was like a kid at Christmas. That's the way I felt when I got to Phoenix. I didn't have to get every rebound, score every basket. I was a much better player in Philly than I was in Phoenix because I was 32 then. But when they gave me those shiny new toys, that's the year I won MVP and we went to the Finals, and we lost to the Rockets the next two years in seven games.
LaCava: He was a transformative figure that moved this city into the big leagues in so many different ways because he was a superstar. Because his personality and his on court ability, especially that first year, turned this town upside down.
Munn: The arena, the change of uniforms. Even though they lost in the conference finals, there was still a lot of Suns mania in the market. Getting Barkley took it to an unfathomable level and it never stopped. It was the first step in that wild ride that led to Game 6 of the NBA Finals.
LaCava: I thought it was the most significant moment in local sports history at that time that jettisoned Phoenix to a national perspective.
Barkley: I really appreciate Jerry and Cotton for bringing me to Phoenix. My only mistake is not getting there sooner because I was getting older.
Some quotes in this oral history came courtesy of the Brad Cesmat Show. Main image courtesy of Darkwing Art.